We may receive commissions for purchases made through links on our website. We appreciate your support.

There are a number of YouTube content creators who collaborate with companies to provide discounts and bonus features to their viewers. NordVPN is known for frequently partnering with YouTubers to offer enhanced security through special coupons.

Many of these special promo codes offer discounts of up to 60%, along with free extra months. Using these NordVPN YouTuber codes, you can get a cheaper subscription and encrypt your online traffic without paying a premium price.

In this article, we'll share details about some of the most popular YouTube channels that offer NordVPN discount codes and how to use them to protect your online data.
How to use NordVPN YouTuber discount codes
First, go to the NordVPN site.
NordVPN has multiple subscription plans. Choose the one that best fits your needs.
Click on Got a coupon? and enter the YouTuber discount code. (auto-applied via affiliate link).
Click on Apply.
The code will be applied and you can now purchase your subscription at a discounted price!


Best NordVPN YouTuber codes
NordVPN is incredibly popular among YouTubers, which is why it frequently partners with them to give discount codes. Here's a table that shows some of the most famous YouTubers and their codes:
| | |
| --- | --- |
| YouTuber | Discount code |
| PewDiePie | pewdiepie |
| MrBeast Gaming | mrbeastgaming |
| Mark Rober | markrober |
| CaseyNeistat | casey |
| Philip DeFranco | phillyd |
Here's a bit more detailed look at what these YouTube channels are and what you can get with their NordVPN codes:
PewDiePie
PewDiePie is a Swedish YouTuber who's been making videos since 2010. He gained popularity for his "Let's Play" game videos. He later transitioned into other forms of content creation including vlogs, social commentary, and even book reviews.
The Swedish YouTuber has over 111 million subscribers and regularly mentions NordVPN in his videos.
Using the NordVPN discount code "pewdiepie," you can get over 50% on the VPN's 2-year plan, along with an extra 4 months for free. Note that the discount tends to change every now and then, so we suggest staying updated with PewDiePie's videos!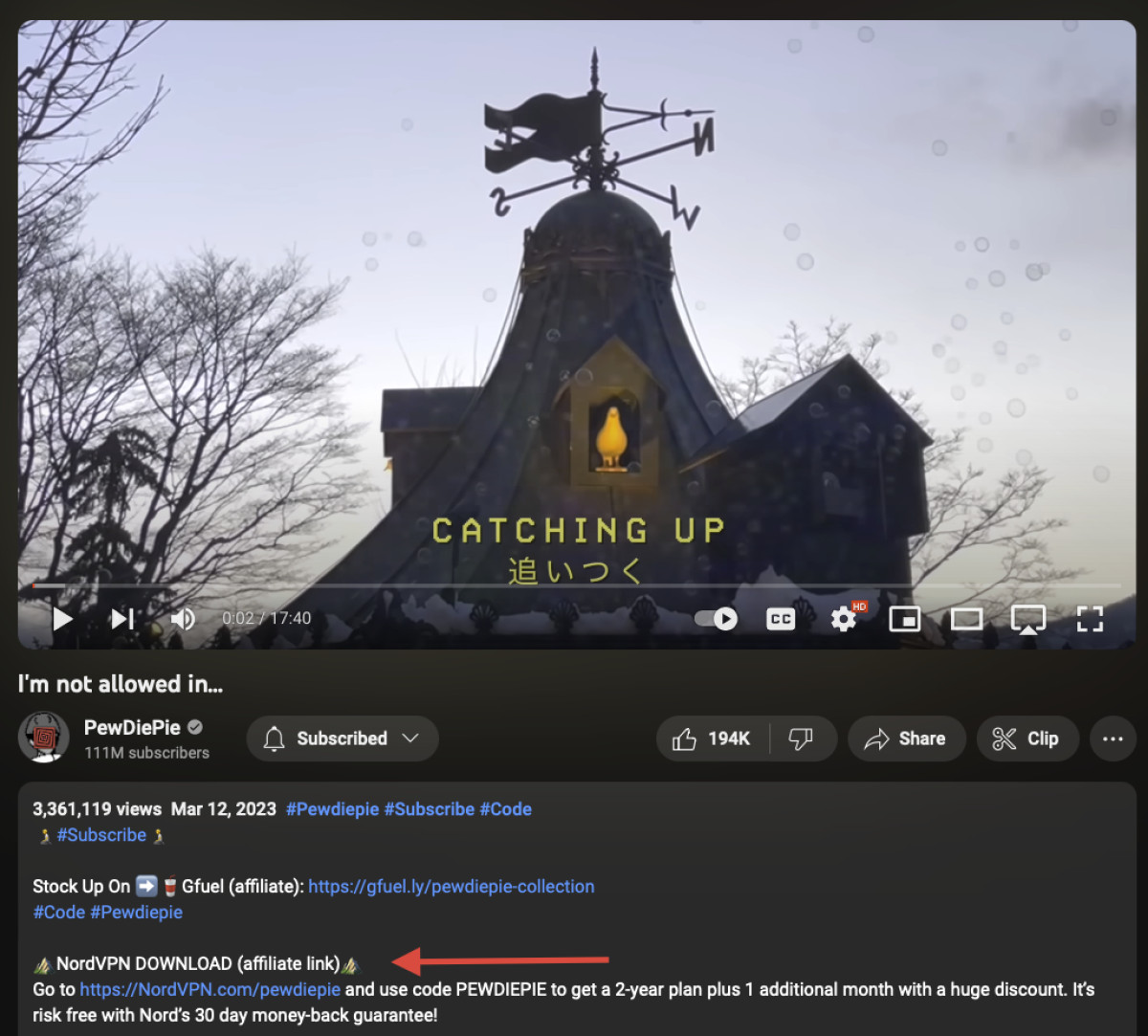 PewDiePie's channel with the NordVPN discount code in the video's description.
MrBeast Gaming
MrBeast, or Jimmy Donaldson, is another extremely popular YouTuber who's known for performing dangerous stunts and challenges. He runs multiple channels, one of which is called "MrBeast Gaming."
The channel has amassed millions of subscribers, so it's only natural for a VPN as popular as NordVPN to partner up with him. With the help of his NordVPN discount code "mrbeastgaming," you'll get around 58% off on the VPN's 2-year plan.
Mark Rober
Mark Rober is a former NASA engineer and also the founder of CrunchLabs. On his YouTube channel, Rober frequently makes educational and DIY videos. He also reviews and invents gadgets, creates prank videos, and investigates the behavior of animals.
Rober's NordVPN code "markrober" will allow you to save over 50% on the NordVPN's 2-year subscription plan and get a few extra months with the package.
CaseyNeistat
Casey Neistat is a filmmaker and a YouTuber who gained recognition in the early 2000s for making movies and even a TV show which aired on HBO. On YouTube, he made daily vlogs from 2015 to 2017.
He still uploads videos on a regular basis and has over 12 million subscribers. His NordVPN discount code "CASEY" gives you 70% off on the 2-year plan and also gives you an extra month for free.
Philip DeFranco
Philip DeFranco, or more popularly known as PhillyD, is one of the oldest YouTubers on the video streaming platform. On his main channel, he runs his own show, called "The Philip DeFranco Show," where he talks about news events and pop culture.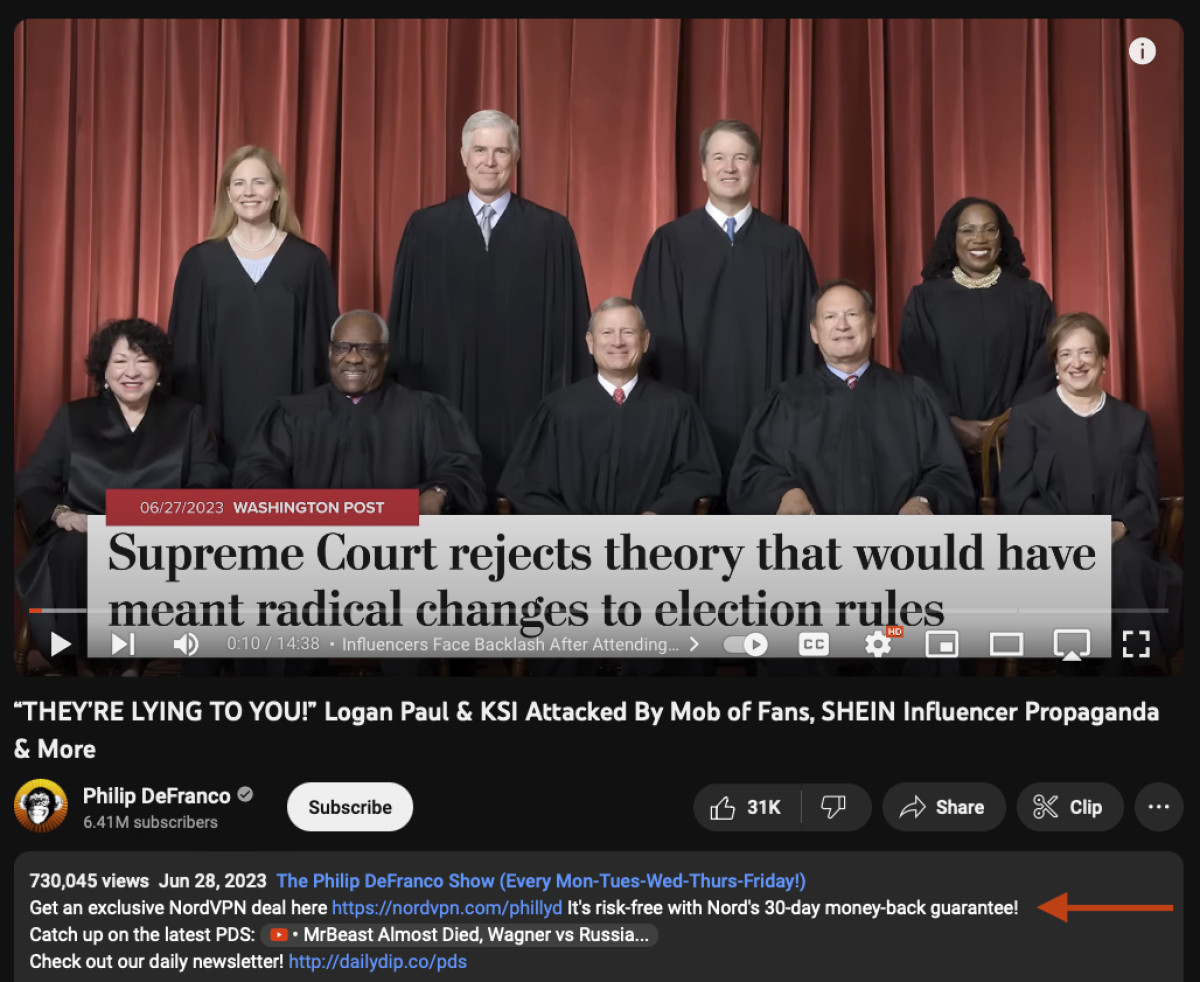 Philly D's YouTube channel with his NordVPN affiliate link.
His NordVPN YouTuber code "phillyd" will allow you to get the VPN's 2-year plan at a discount with 4 extra months.
Why use NordVPN YouTuber code?
The main reason why you should use a NordVPN YouTuber code is so you can avail a discount on your subscription. Here are some other reasons why these codes matter:
Supporting YouTubers – YouTubers that promote these discount codes get a commission every time someone uses them to purchase a NordVPN subscription. That's why it's a great way to support your favorite YouTubers. If you use their affiliate links, they'll get a cut, allowing them to continue making content that you enjoy.
Trust – You're more likely to buy a product or a service if it's recommended to you by someone you admire and trust. If your favorite YouTuber vouches for the quality of NordVPN, then you know that it's safe for you to use it as well.
Additional benefits – Most NordVPN YouTuber discount codes don't just offer a NordVPN subscription at a cheaper price, they also include extra months of service for free.
Reviews – Most YouTubers review NordVPN, too, in their videos while they're promoting them. They also often show how you can use it to protect your online identity. This helps you get an idea of what it's like to use the VPN.
What's the cost after using NordVPN YouTuber code?
Most NordVPN YouTuber codes offer a discount of 50%, bringing the price down to $3.65 per month. You also get an extra 1-3 months of service for free. Note that these codes usually only apply on the VPN's 2-year plan.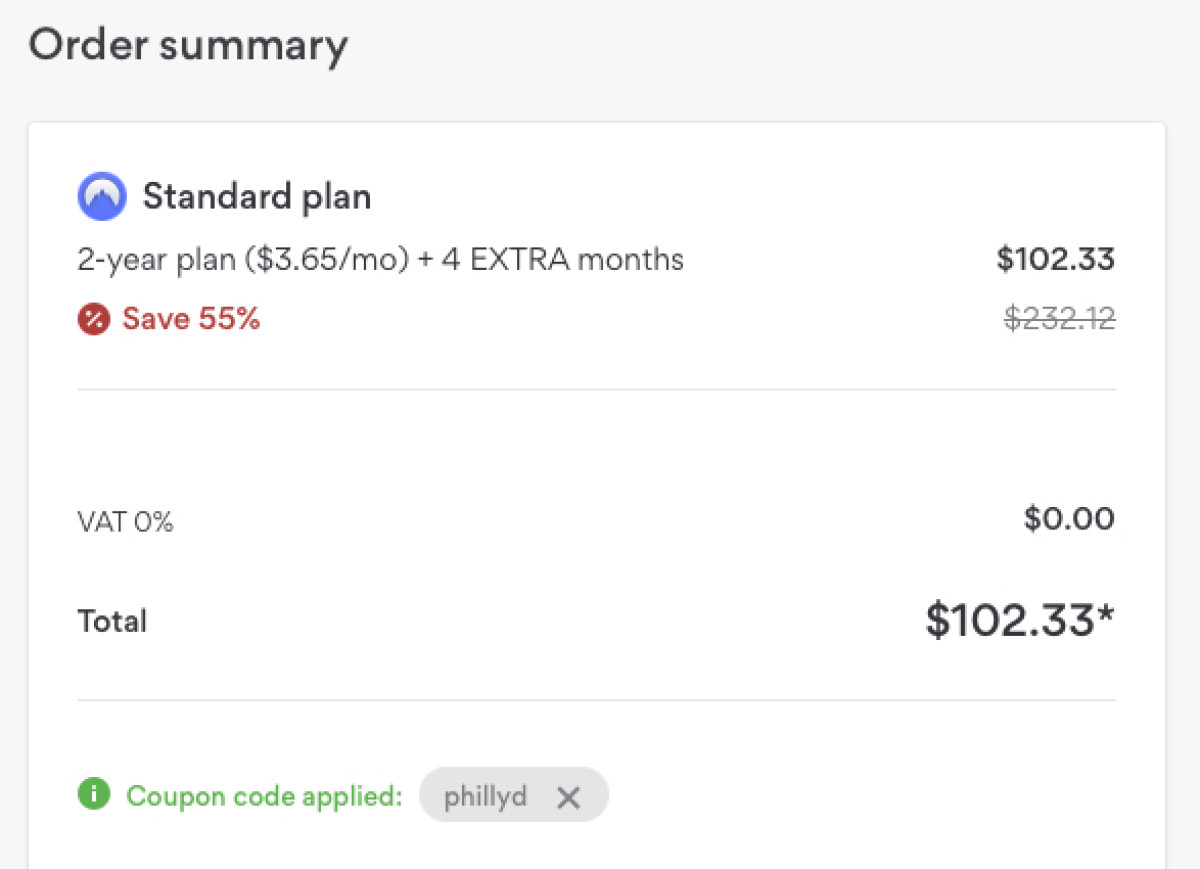 NordVPN's 2-year plan after applying Philly D's discount code.
NordVPN offers three plans: Standard, Plus, and Complete. The discount codes can be used for any of these plans and you'll get all the features that are included in them, such as tracker blocker, cloud storage, malware protection, and password manager.
YouTube coupon codes tend to change with time and may offer different discount rates, which is why it's important that you stay updated with your favorite YouTubers' videos.
Is it worth getting NordVPN YouTube sponsor code?
Yes, it's absolutely worth getting a NordVPN YouTube sponsor code as it can help you save a lot of money and get a few additional months for free. It's also an excellent way to support your favorite YouTubers without having to pay for YouTube Premium.
You'll get all the features that are normally included in a NordVPN subscription at a cheaper price, along with the added peace of mind that comes from knowing that it's recommended by a YouTuber you trust.
Even if you're not interested in the YouTuber's videos, it's still worth giving it a shot.
Without the code, you'll end up paying more for the same services. Leveraging these promotional opportunities isn't just worth it, it's the smart choice to make. That's why we recommend using one of the NordVPN YouTuber codes we've listed above to get your subscription.
Frequently asked questions
The expiration date of a NordVPN YouTuber code can vary based on the agreement between the YouTuber and the VPN service. We recommend visiting the affiliate link to see if there's any date mentioned. Most YouTubers will include details of the offer in the video or its description.
Yes, PewDiePie uses NordVPN. He's mentioned multiple times in his videos that he uses the VPN because it helps him browse the Internet safely and freely. That's why he shares his NordVPN discount code in almost all of his videos.
Some of the most popular YouTubers who have a NordVPN code include: PewDiePie, MrBeast Gaming, Mark Rober, Casey Neistat, and Philip DeFranco. These YouTubers frequently share NordVPN discount codes in their videos.
No, it's not possible to use multiple NordVPN YouTuber coupons. When you add a coupon code at the time of checkout on the NordVPN's site, it doesn't allow you to add another one.
You can find working NordVPN YouTuber codes by searching for them on YouTube or in the description box of the video you're watching. You can also check NordVPN's social media channels to learn about their ongoing promotional offers.