We may receive commissions for purchases made through links on our website. We appreciate your support.

If you've been unable to access the intriguing content of BBC iPlayer due to your location in the USA, here's some promising news: a premium VPN service can change your streaming situation. By altering your IP, it effectively bypasses geo-restrictions, granting you the freedom to enjoy the streaming platform from anywhere across the globe.

While BBC iPlayer might be a UK-exclusive gem, that's under geo-restrictions for other regions, you need a VPN that can bypass restrictions. As streaming platforms like BBC iPlayer are getting better at blocking VPN services, you need a top-tier provider, such as ExpressVPN whether you want to watch it while traveling or want advanced levels of safety while watching the beloved 'Peaky Blinders', FIFA World Cups, or even Eurovision song contest.

Our step-by-step guide makes the process a breeze, ensuring you're just a few clicks away from accessing all the entertainment. Through rigorous testing, we have pinpointed a handful of VPNs that consistently provide dependable access to BBC iPlayer content within the United States.
How to watch BBC iPlayer with VPN in the USA
Pick a reliable VPN with British servers. We recommend ExpressVPN – now 49% off.
Download and install the VPN app on your device.
Connect to a British server.
Open BBC iPlayer and create an account.
Why do you need a VPN to watch BBC iPlayer outside the UK?
BBC iPlayer is a free streaming service offering a treasure trove of British entertainment. However, it's restricted by geo-limits that confine its use exclusively to the UK. This limitation means that if you find yourself outside the UK, whether for travel or residing abroad, you might miss out on significant events like Wimbledon or famous shows like 'Match of the Day'. This is where the best VPN providers can help you.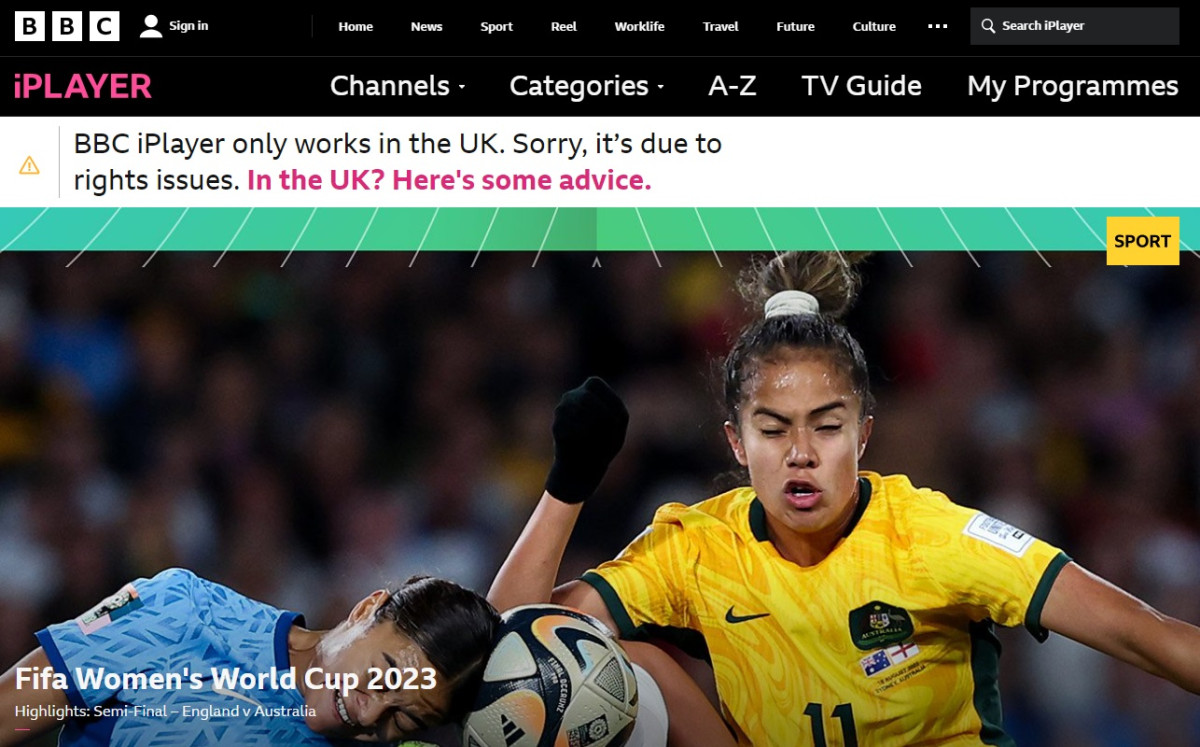 BBC iPlayer only in the UK. (source: bbc.co.uk/iplayer)
A VPN functions as a digital tunnel that redirects your internet traffic through a server in the UK, essentially masking your actual location and providing you with a virtual UK presence. This clever workaround tricks the BBC iPlayer into thinking you're browsing from within the UK, bypassing the geographical restrictions and granting you access to the platform's rich content library.
All you need to do to enjoy British entertainment no matter where you are in the world, is to pick a top-notch VPN provider that has many UK-based servers, fast speeds for streaming without any buffering and secure enough to trick BBC iPlayer's systems that you are in the UK. With a VPN like ExpressVPN, you can even get a generous 30-day money-back guarantee and try streaming British content without any risks from anywhere.
Best VPNs to watch BBC iPlayer in the US
There are several vital factors to consider before choosing a VPN that will suit your needs to stream BBC iPlayer content in the US. One of the most important ones are connection speed and security levels. Equally crucial is the presence of multiple UK servers for bypassing geo-restrictions. Also, you should consider only the best streaming VPNs.
While we tested several VPNs some came out on top with their outstanding performance and easy-to-use factors that ensure uninterrupted streaming of BBC iPlayer from the US. We've examined each provider's capabilities when accessing BBC iPlayer's captivating content. Without further ado, here are our top recommendations that will access BBC iPlayer from anywhere:
1. ExpressVPN – the best VPN for streaming BBC iPlayer in USA
2. NordVPN – secure VPN with large server network for streaming
3. Surfshark – affordable and safe VPN for BBC iPlayer
Here is all you need to know before picking the right service for streaming BBC iPlayer:
1. ExpressVPN – the best VPN for streaming BBC iPlayer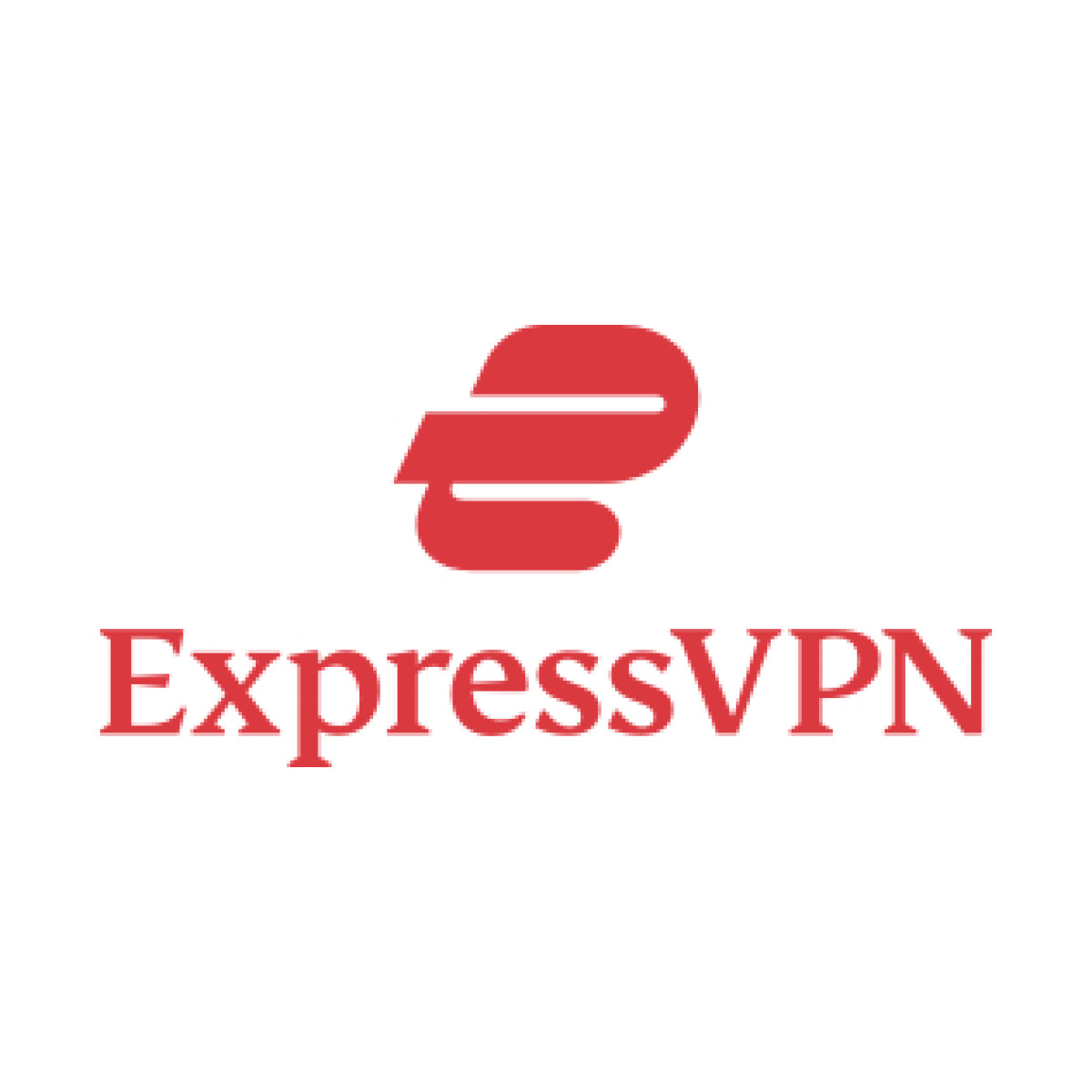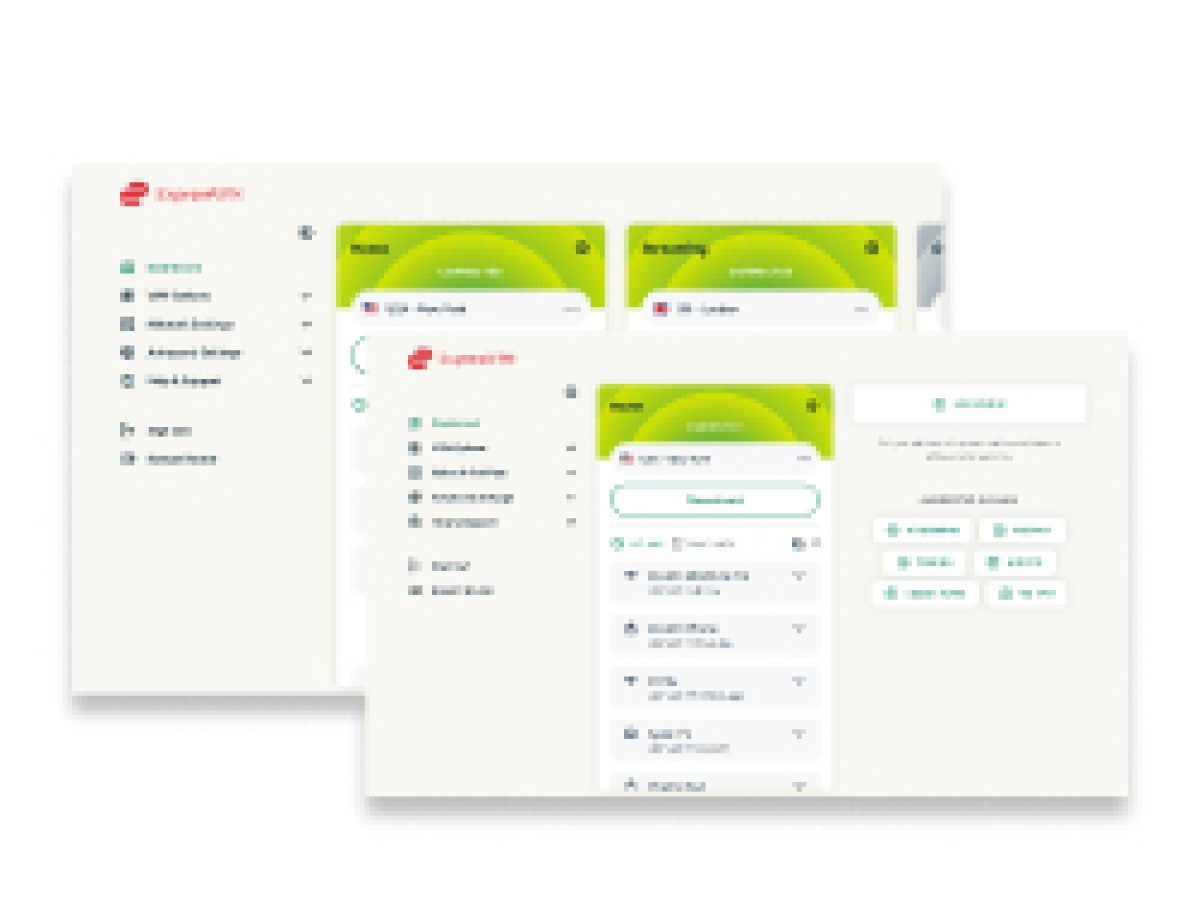 Pros & cons
Multiple UK servers
Military-grade encryption
MediaStreamer feature
The price is a little bigger than other providers
ExpressVPN stands as the best VPN for smooth and buffer-free streaming of BBC iPlayer. With lightning-fast speeds that ensure buffer-free viewing, it guarantees an uninterrupted streaming experience. Boasting a vast network of over 3000 servers across 94+ countries, you can easily connect to a UK-based server, bypassing geo-restrictions and gaining instant access to BBC iPlayer's treasure trove.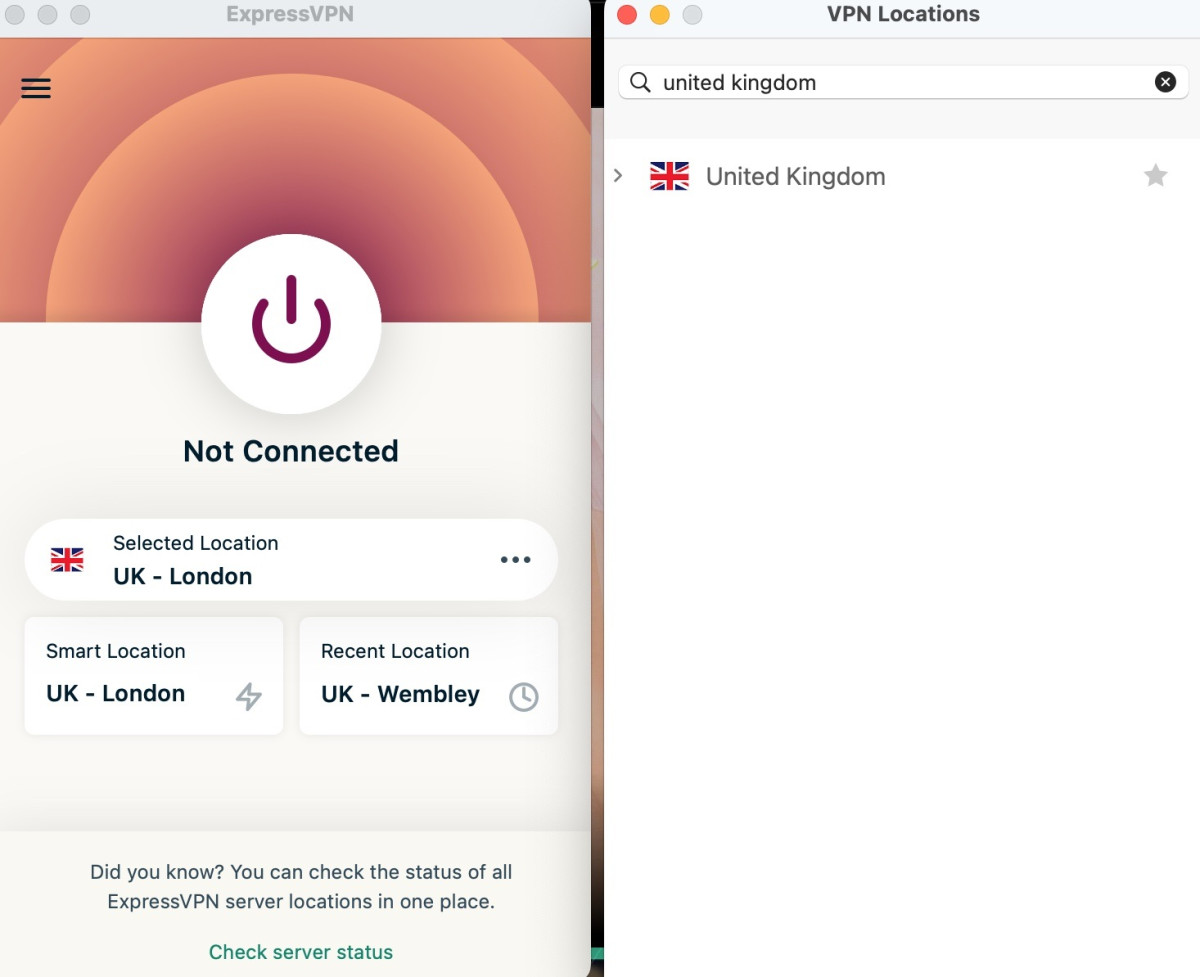 ExpressVPN has many UK-based servers.
What sets ExpressVPN apart is its MediaStreamer feature, a Smart DNS service designed explicitly for streaming. This optimizes your connection for media content, further enhancing your streaming quality. Additionally, ExpressVPN allows up to 5 simultaneous connections on different devices, ensuring everyone in your household can enjoy their favorite shows at the same time.
And the best part? Prices start from just $8.32, making ExpressVPN an affordable choice for unlocking the full spectrum of British entertainment. With its extensive server network, specialized streaming features, and multi-device support, ExpressVPN is the perfect companion for streaming BBC iPlayer content, no matter where you are in the world.
2. NordVPN – secure VPN for streaming BBC iPlayer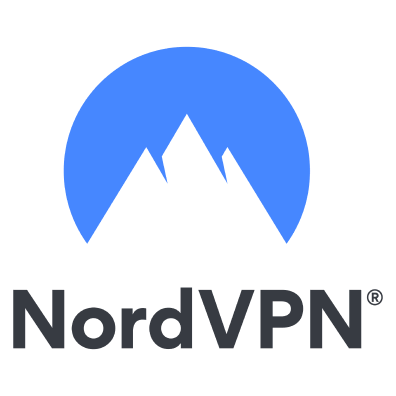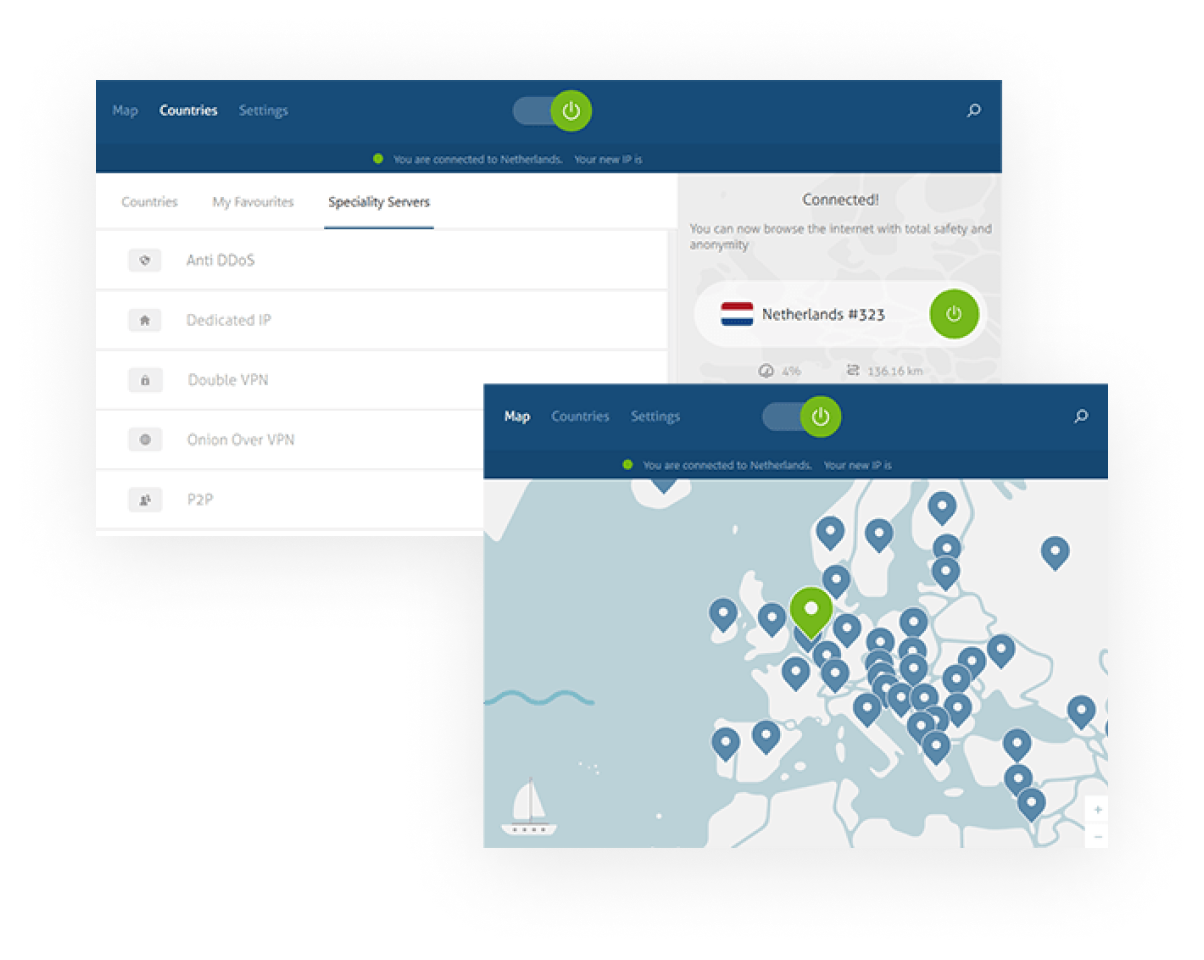 Pros & cons
440+ servers in the UK
Best speeds
Threat Protection feature
The desktop app could be a bit slow
NordVPN is a perfect choice for a secure and seamless BBC iPlayer streaming experience. With swift speeds and a network of over 5310 servers across 59+ countries, NordVPN ensures buffer-free streaming by effortlessly connecting you to a UK server, easily overcoming geographical restrictions.
NordVPN not only excels in speed but also places paramount importance on security. Its cutting-edge encryption and advanced security features ensure your online activities remain private and protected. So, you can stream your favorite shows worry-free. In addition, you can use up to 6 simultaneous connections and stream on multiple devices.
What's more, NordVPN's subscription fee starts from a mere $3.29 per month, making it incredibly affordable for anyone seeking uninterrupted access to BBC iPlayer's captivating content. Whether it's the latest episodes or timeless classics, NordVPN empowers you to enjoy British entertainment from anywhere while safeguarding your online presence.
3. Surfshark – affordable and safe VPN for BBC iPlayer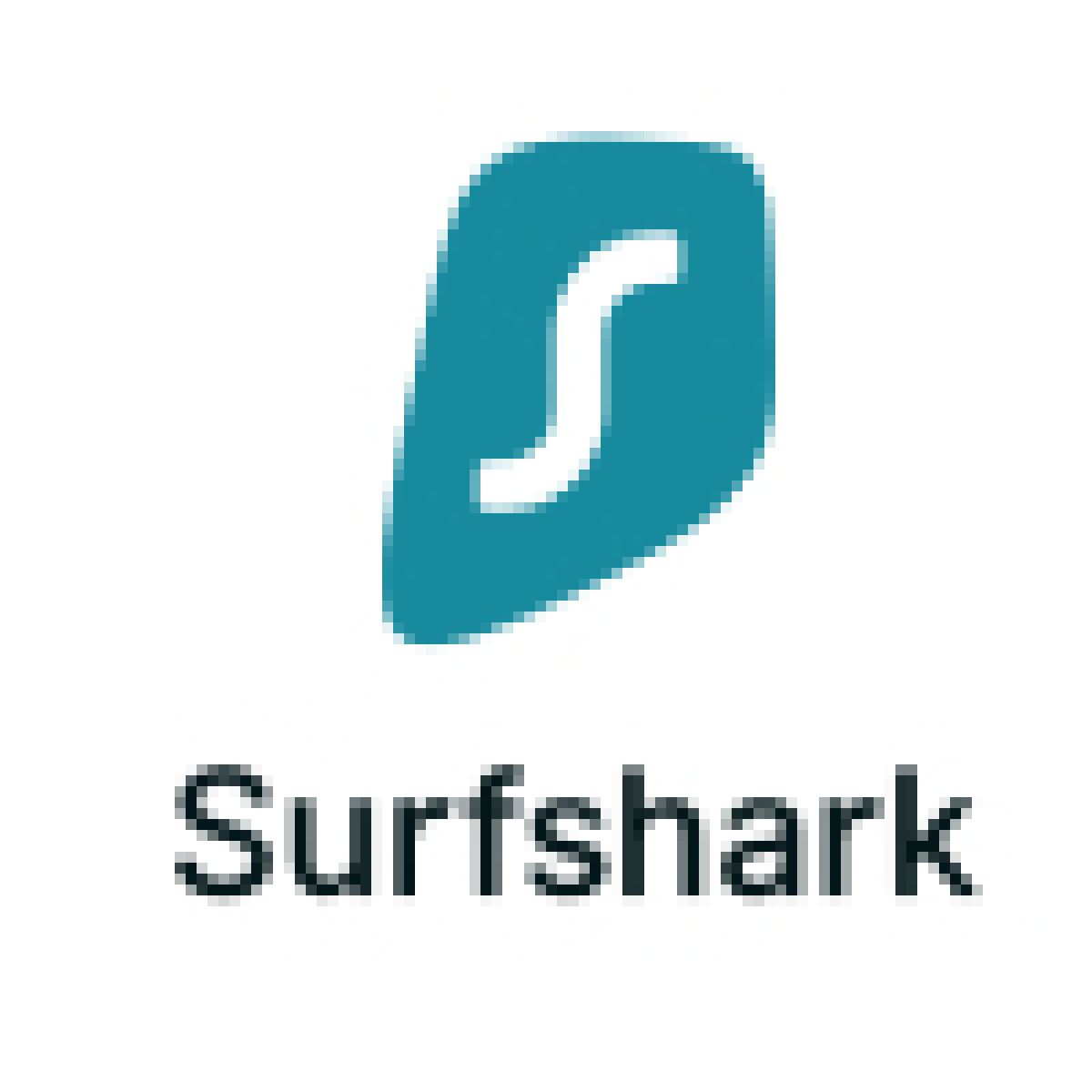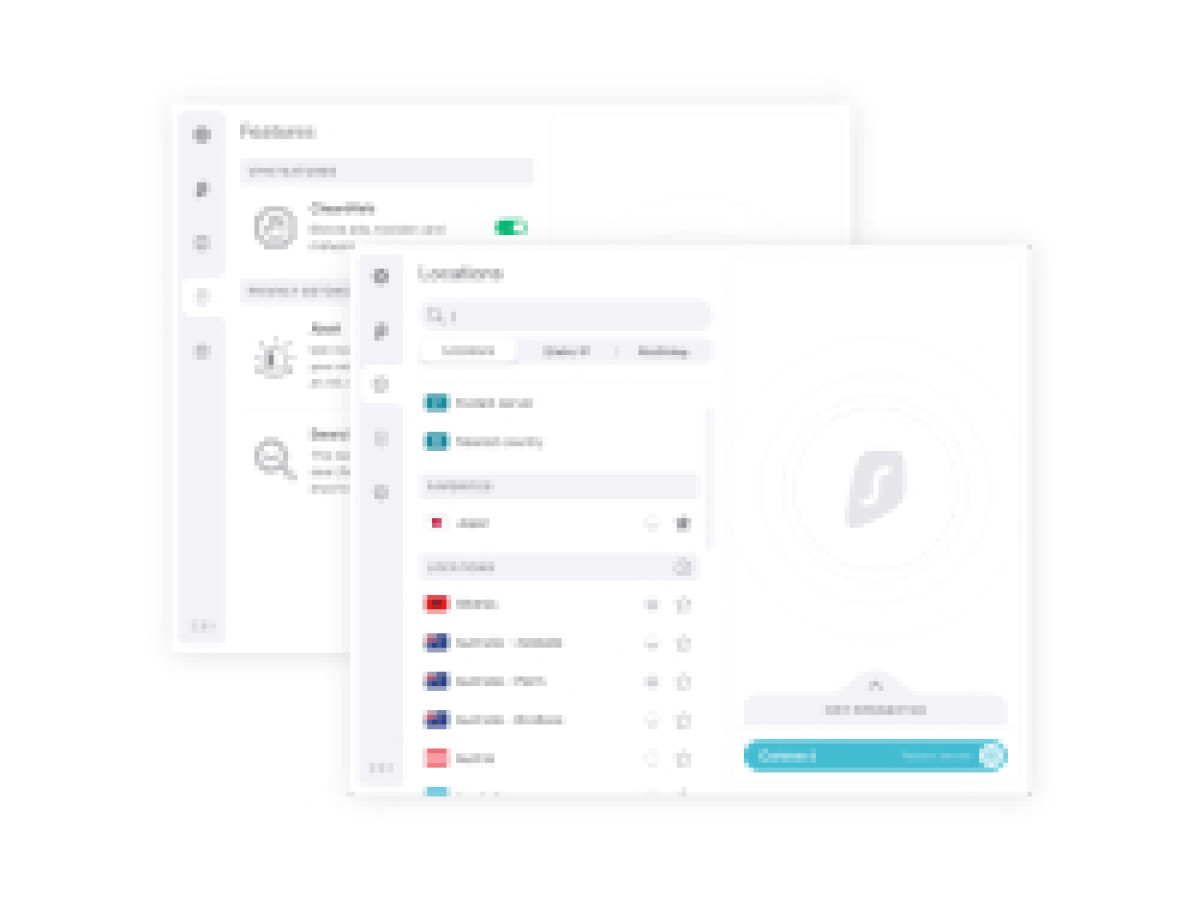 Pros & cons
VPN servers in four cities in the UK
Great prices
Speed could be slightly better
Surfshark is the affordable and secure way to unlock BBC iPlayer. Offering impressive speeds and a network of 3200+ servers across 65+ countries, including 4 servers in UK cities, Surfshark ensures a seamless streaming experience by effortlessly sidestepping geo-restrictions.
Surfshark offers exceptional value with subscription prices starting from just $2.49 a month. This affordable pricing grants you unlimited access to its robust network, ensuring smooth streaming and bypassing geo-restrictions effortlessly. With such budget-friendly options, Surfshark presents an excellent opportunity to unlock a world of British entertainment without breaking the bank.
For an affordable, secure, and versatile VPN to access BBC iPlayer, Surfshark is the ultimate choice. Its combination of speed, server locations, simultaneous connections, and budget-friendly pricing makes it a standout option for streaming enthusiasts.
How to watch BBC iPlayer outside the UK with ExpressVPN?
Choose a reliable VPN with British servers. We recommend ExpressVPN.
Download and install the VPN app on your device. Find a British server and connect.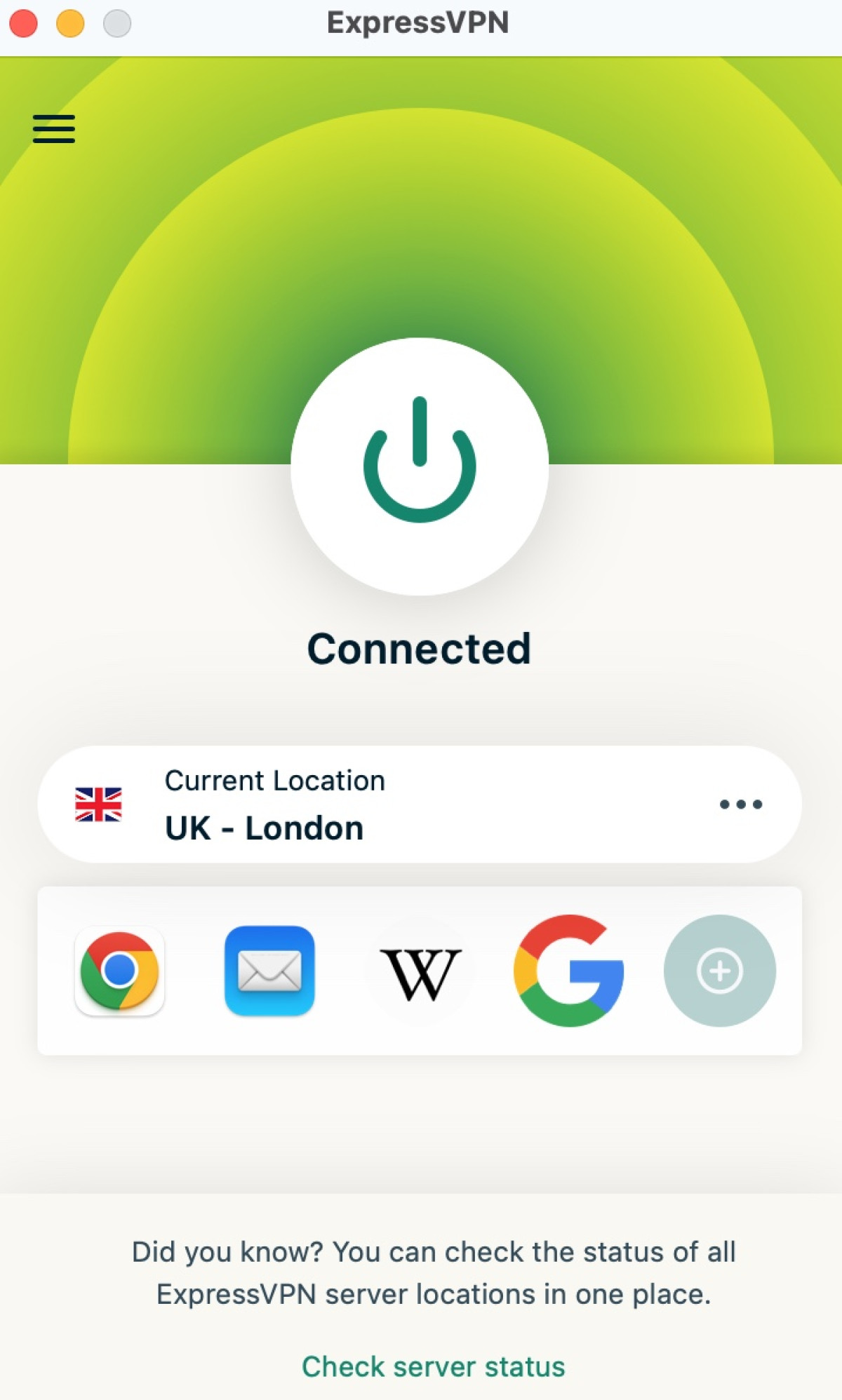 Open the BBC iPlayer website and create an account.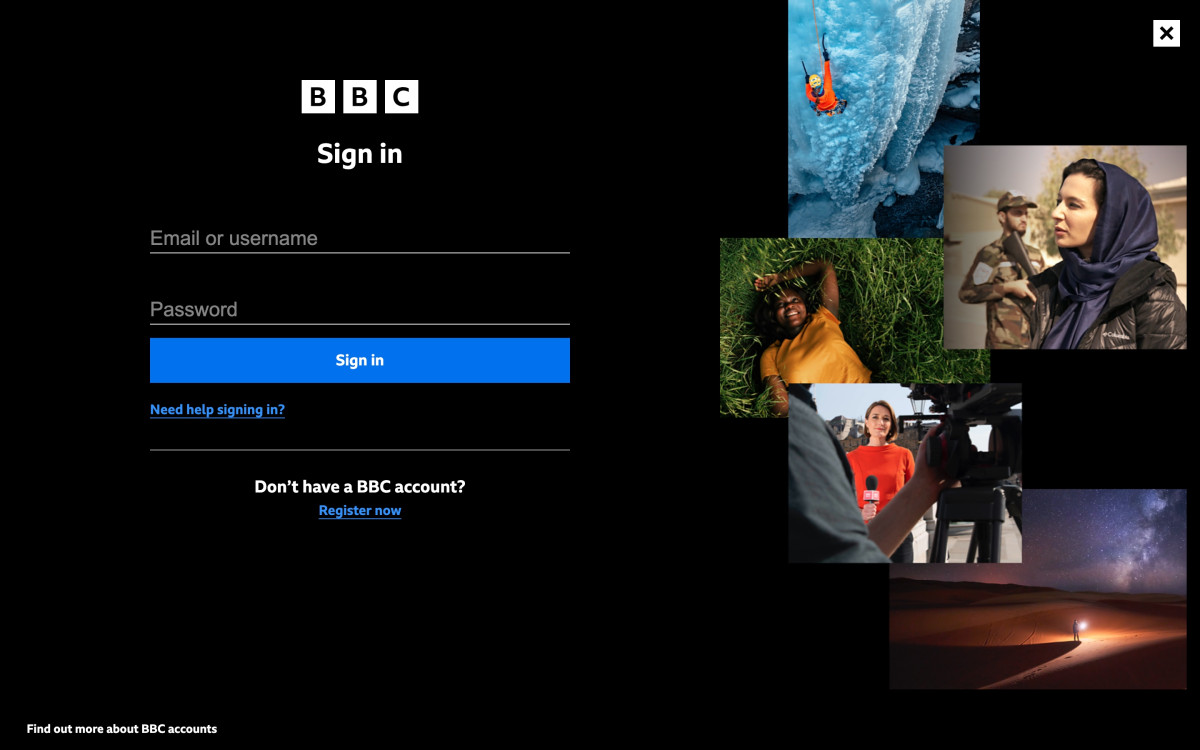 Log in and start streaming British content!
Start streaming BBC iPlayer in the USA.
What devices does BBC iPlayer USA work on?
BBC iPlayer USA is compatible with a wide range of devices, ensuring you can enjoy your favorite British content wherever you are. It works seamlessly on popular platforms such as computers (Windows, macOS), smartphones (iOS, Android), tablets, smart TVs, streaming devices (Apple TV, Amazon Fire TV, Roku), and gaming consoles (PlayStation, Xbox). Additionally, the BBC iPlayer app is available for download on various app stores, making it convenient to access the platform's captivating shows, events, and more, right from the comfort of your chosen device.
Even if you have a compatible device to stream BBC iPlayer, you need to remember that without a secure and reliable VPN provider, you won't be able to access geo-restricted content from anywhere else than the UK. That's why you need to choose the right VPN like ExpressVPN which has apps for all the popular platforms – from desktops and smartphones to routers so there won't be any problem to watch it the way you want.
What to watch on BBC iPlayer?
BBC iPlayer offers an enticing array of content that's bound to keep you hooked. Even if you haven't used it before, you definitely should as many other users already did – last year's streaming platform saw its best year ever with 7 billion streams. With that kind of number, you definitely find something for you.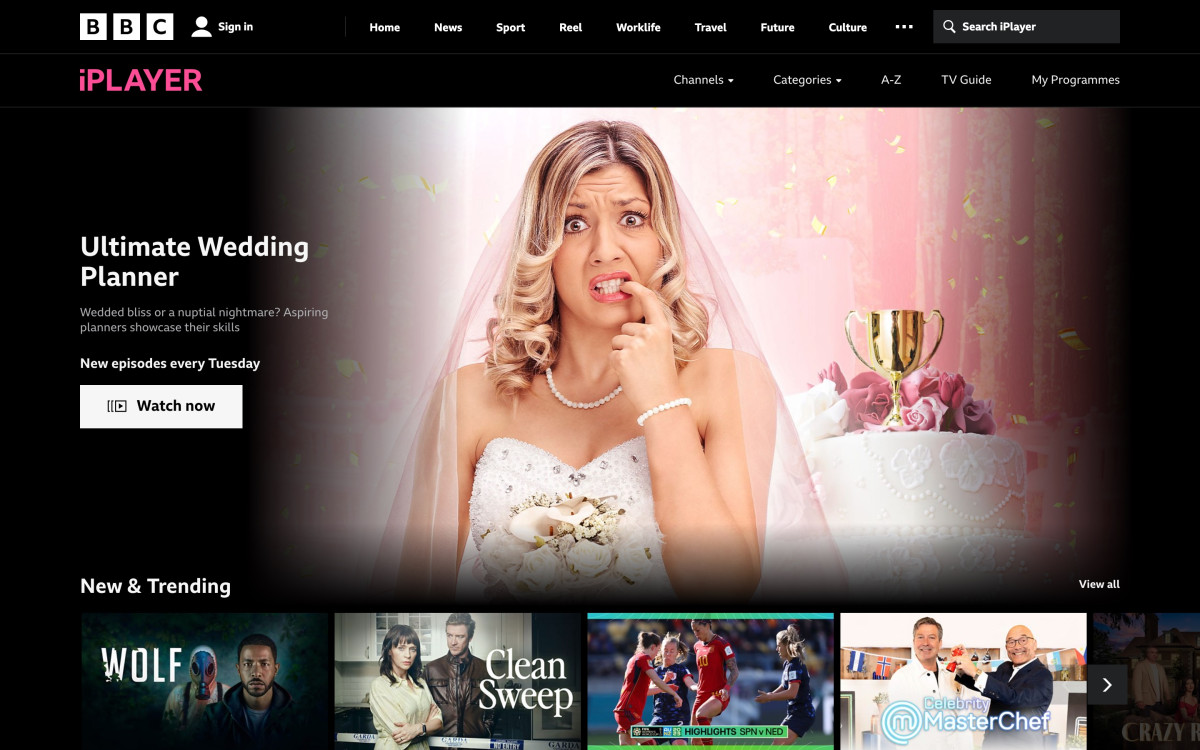 Streaming BBC iPlayer with a VPN (source: bbc.com/iplayer)
| | |
| --- | --- |
| Content | Year |
| Peaky Blinders | 2013 - 2022 |
| Doctor Who | 2005 - Present |
| Killing Eve | 2018 - 2022 |
| Ultimate Wedding Planner | 2023 - Present |
| Match of the Day | 1964 - Present |
| RuPaul's Drag Race Down Under | 2021 - Present |
| NFL | Coming up on September 2023 |
| FIFA World Cup | Various |
| Wimbledon | Annual |
| Eurovision | Annual |
| Glastonbury Festival | Annual |
BBC iPlayer not working with a VPN: solutions
Encountering issues with BBC iPlayer while using a VPN? Here's a list of possible solutions if the streaming platform doesn't seem to work with a VPN to ensure seamless streaming:
Server Compatibility. Try connecting to different UK servers – some servers might be better at bypassing geo-restrictions than others.
Clear Cache and Cookies. Clear your browser's cache and cookies to refresh your connection and potentially resolve any conflicts.
Change VPN Protocol. Switch to a different VPN protocol (e.g., OpenVPN) that might work more effectively with BBC iPlayer's security measures.
Contact VPN Support. If the problem persists, reach out to your VPN's customer support. They can guide you on optimizing settings for BBC iPlayer.
Consider Different VPNs. If all else fails, try a different VPN service known for bypassing geo-restrictions successfully, such as ExpressVPN.
Bottom line
In the quest to enjoy uninterrupted access to BBC iPlayer, the bottom line lies in finding a VPN that combines essential features seamlessly. Look for exceptional speed to ensure buffer-free streaming, stringent security measures to protect your data, and a network of UK-based servers to bypass geo-restrictions effectively.
With these criteria in mind, our top recommendation is ExpressVPN. It's a proven performer in all aspects crucial for accessing BBC iPlayer from anywhere. Its lightning-fast speeds ensure smooth streaming, while robust security protocols shield your privacy. Boasting numerous servers across the UK, ExpressVPN effortlessly opens the gateway to British entertainment.
Frequently asked questions
Yes, BBC iPlayer is free. However, if you're outside the UK, you'll need a premium VPN with UK servers to bypass geo-restrictions and access its content. A VPN ensures seamless streaming of shows, events like Eurovision, and more, regardless of your location.
Yes, using a VPN to watch BBC iPlayer in the USA is generally considered legal. While the BBC has terms of use that apply to UK residents, the legality of using a VPN to access geo-restricted content varies. VPN usage itself is legal, but it's important to use a VPN service in compliance with the laws of your country.
Using a free VPN for BBC iPlayer in the USA is generally not recommended. Free VPNs often lack the necessary speed and server quality to bypass geo-restrictions effectively. Premium VPNs like ExpressVPN are more reliable for seamless streaming and ensuring access to BBC iPlayer's content from outside the UK.