We may receive commissions for purchases made through links on our website. We appreciate your support.

The Internet has become increasingly privacy-centric in the last two decades, but cyberattacks still plague users. If you've thought about taking up arms, so to speak, against the threat of data breaches, then you might have asked yourself, "Is a VPN worth it?

A VPN is indeed worth it, even in 2023, because it keeps your online data safe and secure. It's essentially a tool that changes your IP address, encrypts your online traffic, and provides you advanced security features that help you protect your data.

In this article, we'll explain the advantages of a VPN and give you some tips on how you can choose a provider that fits your needs so you don't have to worry about cyberattacks and data breaches.
The advantages of using a VPN
A VPN's main job is to hide your IP address to make it look like your traffic is coming from somewhere else, and encrypt your online traffic. Let's take a look at some of the other things a VPN can do for you:
Increase your online privacy
The biggest reason why you should use a VPN is because it'll protect your online browsing behavior by changing your IP address and encrypting your traffic.
Under normal circumstances, your IP address is visible to your Internet service provider (ISP) and any website you visit. Anything you do online can easily be traced back to your IP address.
A VPN replaces your actual IP address with a different one from another region. This new IP address obfuscates your online activities from your ISP and the websites you visit. There are numerous advantages to hiding your IP address as you'll soon learn.
When the fake IP address is combined with the military-grade AES-256 encryption most VPNs provide, it becomes virtually impossible for anyone to steal your data. Even if your data is leaked, it'll appear as gibberish to anyone looking at it because it's encrypted.
Access geo-restricted content
Another major reason why you need a VPN is so you can unblock geo-restricted content such as movies and in-game content.
Premium VPNs like NordVPN or ExpressVPN allow you to choose from thousands of servers located in different regions including Japan, Germany, and the UK.
Once you're connected to a server from a different region, any website you visit assumes you're located in that particular region, giving you access to all the content that's exclusive to it.
For example, Binance, one of the largest crypto exchanges, isn't available in the US, but people can unblock it by connecting to a VPN server that's located in a region where the exchange works.
Provide advanced security features
Almost every VPN comes with a multitude of advanced security features to help boost your privacy. A good example is a kill switch, which is present in almost every VPN. It immediately disconnects your device or specific apps from the Internet if your VPN connection stops working. This way, none of your important data or information is accidentally leaked.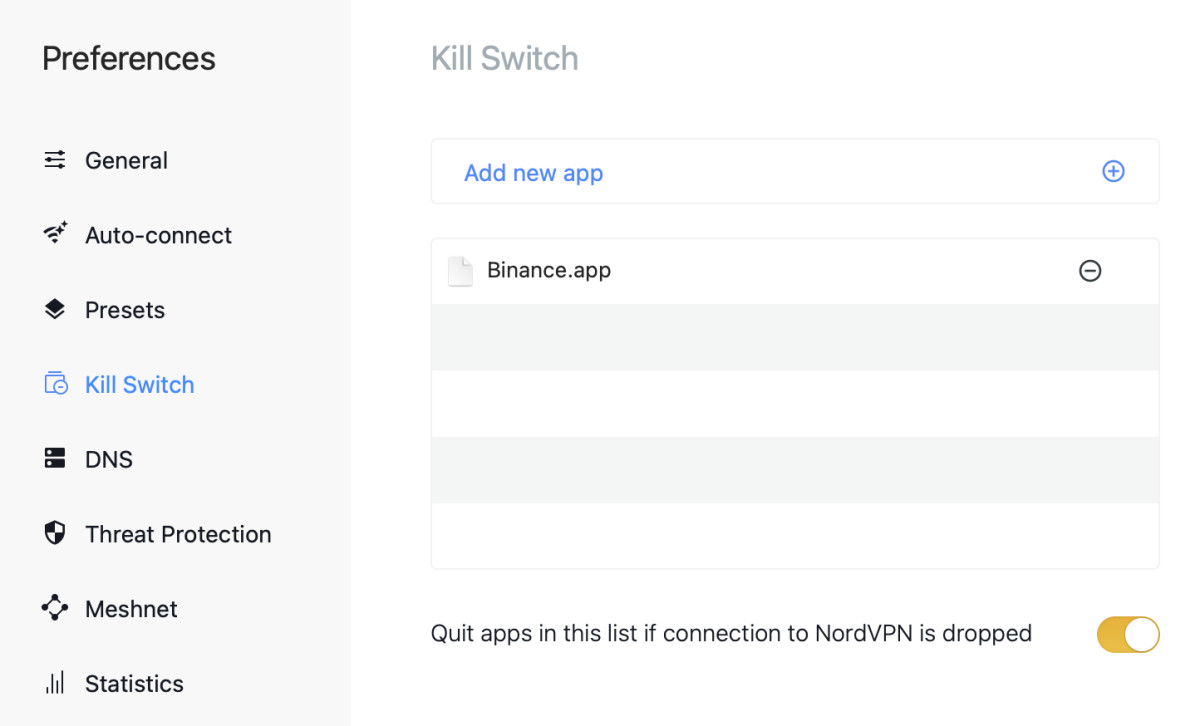 Kill switch on NordVPN.
Split tunneling is another security feature that most VPNs offer. It allows you to exclude certain apps and sites from the VPN connection.
There are many other advanced security features, some of which are unique to certain VPNs. All these features allow you to take more control over your online privacy and protect your data.
Avoid ISP throttling
When you exceed your data limit or do something that's prohibited by your ISP (downloading torrents, for example), they can throttle your bandwidth and speed. This is only possible if your IP address is exposed.
By using a VPN, you can hide your online activities from your ISP. Almost every VPN comes with a feature called DNS leak protection which stops your DNS requests from getting leaked. What this means is that your ISP won't know what websites you visit, and so they'll never have any reason to put a limit on your speed or bandwidth.
Stream blacked out games
Many sports companies black out online live streams of their games due to licensing restrictions. For example, the rights to air Major League Baseball or MLB games are owned by several different broadcasting companies because of which they're not available to watch in some regions around the world, even if you're subscribed to MLB.tv.
You can watch blacked out MLB games by using a VPN. It'll change your IP address and connect you to a server where the game you want to watch is available. This is especially useful if you're traveling.
How to choose the right VPN?
Here are some tips to help you find the right VPN:
Avoid free VPNs that show ads – Most free VPNs that display ads sell your data to advertisers to make money. These VPNs aren't safe as they record your information and even your browsing habits.
Use VPNs that have a proven no-log policy – All VPNs claim to have a no-log policy, but few have been audited by external parties to prove their claims. NordVPN is a good VPN whose no-log policy has been externally audited multiple times.
Check if the VPN has RAM-based servers – RAM-based servers immediately erase all data as soon as you disconnect from the VPN. Most premium VPNs like ExpressVPN and Surfshark have RAM-based servers to ensure no user data is ever retained.
Find out where the VPN is located – Yes, the location of the VPN company matters sometimes. If it's based in a 5/9/14 Eyes country and doesn't have RAM-based servers, then just remember that it'll have no choice but to give up data when asked by government agencies.
A large server network isn't always a good thing – Many VPNs claim to have 10,000+ servers in 100+ countries. A large server network isn't necessarily a good thing, because in most cases, half of those servers will be dead or not safe to use. Instead, pick a trusted VPN whose server network is known for being safe. Check our review of ExpressVPN to learn about the 3000+ servers it has in 94 countries.
How much does a VPN cost?
VPNs have multiple subscription plans and their costs can be anywhere between $2 to $15 per month. The price will mostly depend on your needs as there are a lot of varying options in the market.
If you're not ready to spend money on a VPN, you can use a free one. Keep in mind that a free VPN will have a limited server network and few advanced security features if any, so the experience will be vastly different from using a premium one like NordVPN. We have a list of the best free VPN services and ProtonVPN is at the top of it.
With that being said, we always recommend using premium VPNs as they provide tons of security features and they're generally much safer than free ones.
ExpressVPN is one of the more expensive VPNs, with its prices starting from $6.67 per month. If that's a lot for you, we recommend checking out Surfshark, a high-quality VPN that has similar features and starts at $2.49 per month.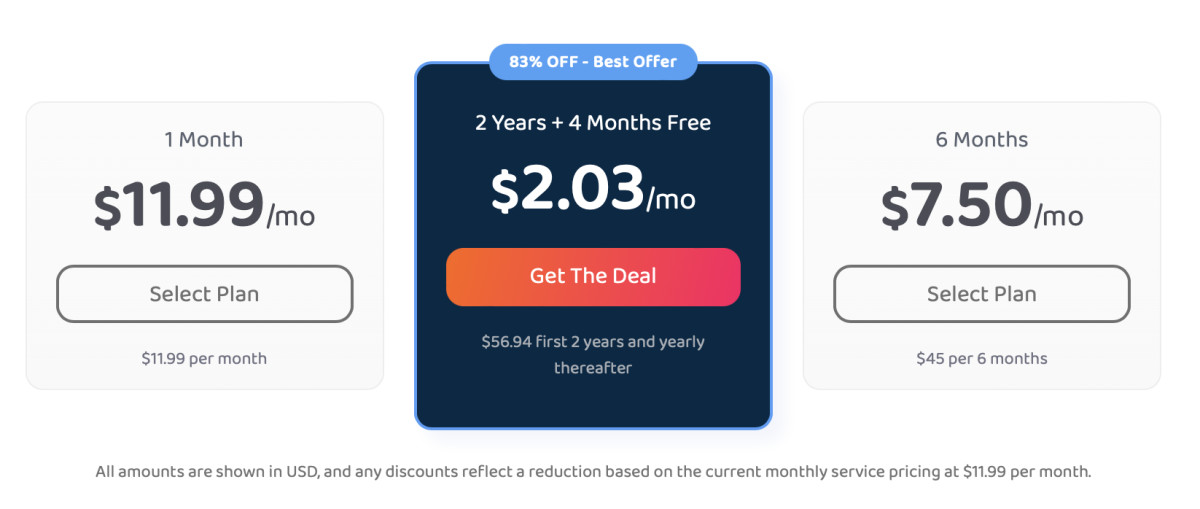 Private Internet Access's subscription plans.
We've added a table below that compares the prices of the 3 most popular VPNs:
| | | | |
| --- | --- | --- | --- |
| | Surfshark | NordVPN | ExpressVPN |
| Monthly | $12.95 per month | $11.99 per month | $12.95 per month |
| Yearly | $3.99 per month | $4.49 per month | $6.67 per month |
| Bi-yearly | $2.05 per month | $3.69 per month | N/A |
Which VPN would we recommend?
We recommend checking out our list of best VPN services of 2023 and choosing one of the top VPNs from it. NordVPN and ExpressVPN are both great choices as they have similar features and a large network of RAM-only servers. The former is slightly better as it's cheaper and has some additional advanced security features.
CyberGhost VPN is also great for beginners as it has over 9000 RAM-only servers and it's one of the few VPNs that's been externally audited by one of the Big Four firms Deloitte.
All three of these VPNs are based in non-5/9/14 Eyes countries.
Frequently asked questions
Yes, VPNs are necessary if you want to keep your online data safe and hidden from your ISP and malicious third parties. A VPN changes your IP address and encrypts your online traffic, making you almost completely anonymous online. Without a VPN, your personal information and data are at risk of being compromised.
Yes, a VPN is worth it in 2023 because it protects your online traffic and keeps your data secure. Most of us live on the Internet now and our privacy is important to all of us. A VPN encrypts our online traffic to make sure our data never gets in the wrong hands.
The only disadvantage of using a VPN is that your data could be sold to advertisers or third-party agencies. It's unlikely for a premium VPN whose no-log policy has been externally audited to do that and it's more common among free VPNs that show you ads as a way to make money.