We may receive commissions for purchases made through links on our website. We appreciate your support.

Proton VPN is a popular choice among users who value online privacy and security, and it is often praised for its strong encryption protocols and no-logs policy as it is based in Switzerland and benefits from strong legal protection and privacy laws.

Proton VPN offers a wide range of features, including multi-platform support, split tunneling, and the ability to connect to VPN servers in over 60 countries. The provider offers decent speeds and excellent safety, but app performance can vary depending on the server location and the user's internet connection.

When compared to other VPNs, it is a solid choice for users looking for a combination of security and privacy. This Proton VPN review will help you decide if it's the best vpn choice for you and give tips on how to use it for the smoothest performance.
Proton VPN specifications
Proton VPN is well-regarded for its security robust privacy features, strong encryption protocols, and strict no-logs policy. In addition, the provider offers advanced safety features, such as Secure Core, Net-Shield, and Stealth protocol.
Here is a summary of the key features if you are wondering:
| | |
| --- | --- |
| Number of servers | 1900+ |
| Based in | Switzerland (Non-14 Eyes member) |
| VPN protocols | OpenVPN, IKEv2, WireGuard |
| Encryption | AES-256, 4096-bit RSA, and HMAC with SHA384 |
| Log policy | No logs |
| Streaming capabilities | Netflix, YouTube, BBC iPlayer, HBO Max, Amazon Prime Video |
| Lowest price | $4.99 |
| Money-back guarantee | 30 days |
| Website | |
Proton VPN short overview
If you are short on time or simply want to know the fundamental characteristics of ProtonVPN, here are our major takeaways after testing the app:
Pros
Military-grade encryption and robust security features. The VPN utilizes the most advanced encryption technologies and offers robust security features that provide an added layer of protection while using the internet. Learn more about security features.
Strict no-logs policy. That means that the company does not keep any records of the user's online activities, providing an extra level of privacy. Here is everything you need to know about Proton VPN privacy policy.
Supports a wide range of streaming platforms. You can reach Netflix, Hulu, BBC iPlayer, HBO Max, Amazon Prime Video, and other popular platforms without any trouble. Learn all about Proton VPN streaming capabilities.
Specialized servers. Despite a relatively small server network, Proton VPN offers a great variety of specialized options for P2P, streaming, and optimized for Tor. Explore the server network of ProtonVPN.
Easy-to-use application. The application is user-friendly and easy to navigate, making it accessible to users of all technical abilities. Learn how easy it is to use it on any device.
Cons
Speeds are average. Proton VPN offers an average connection speed compared with other providers, though it may vary depending on server location and the user's internet connection. Here are our impressions of the app speeds.
Price is comparatively high. Proton VPN provides a higher level of security and privacy, which some users may find worth the added cost, but it is a more pricey service than the average premium VPN one. See all Proton VPN pricing lists.
Proton VPN how does it compares to other VPNs
As many premium VPNs have similar features and performance, we made a table for you to see how Proton VPN looks compared to other top VPNs – NordVPN and Surfshark:
| | | | |
| --- | --- | --- | --- |
| | Proton VPN | NordVPN | Surfshark |
| Number of servers | 1900+ in 67 countries | 5000+ in 54 countries | 3200+ in 100 countries |
| Location | Switzerland | Panama | The Netherlands (14-Eyes member) |
| Encryption | 256-bit AES encryption | 256-bit AES encryption | 256-bit AES encryption |
| Kill switch | Yes | Yes | Yes |
| No-logs policy | Independently audited | Independently audited | Independently audited |
| Number of simultaneous connections | 10 devices | 6 devices | Unlimited devices |
| VPN protocols | WireGuard, OpenVPN, and IKEv2 | NordLynx (WireGuard) and OpenVPN | WireGuard and OpenVPN |
| Torrenting | Yes | Yes | Yes |
| Streaming platforms | Netflix, Disney+, Amazon Prime, BBC iPlayer, and more | Netflix, BBC iPlayer, Amazon Prime, Disney+, and more | Netflix, HBO Max, BBC iPlayer, Disney+, and more |
| Money-back guarantee | 30 days | 30 days | 30 days |
| Lowest monthly cost | $4.49 per month | $2.99 per month | $2.30 per month |
Speed – is Proton VPN fast?
Proton VPN is considered to be an average-speed VPN service<, although it is capable of doing almost any online activity without slowing down significantly. There are a few factors that let the service reach better speeds – the first one is a tunneling protocol. On the VPN app, you can choose from three tunneling protocols and WireGuard is the best option for better speed.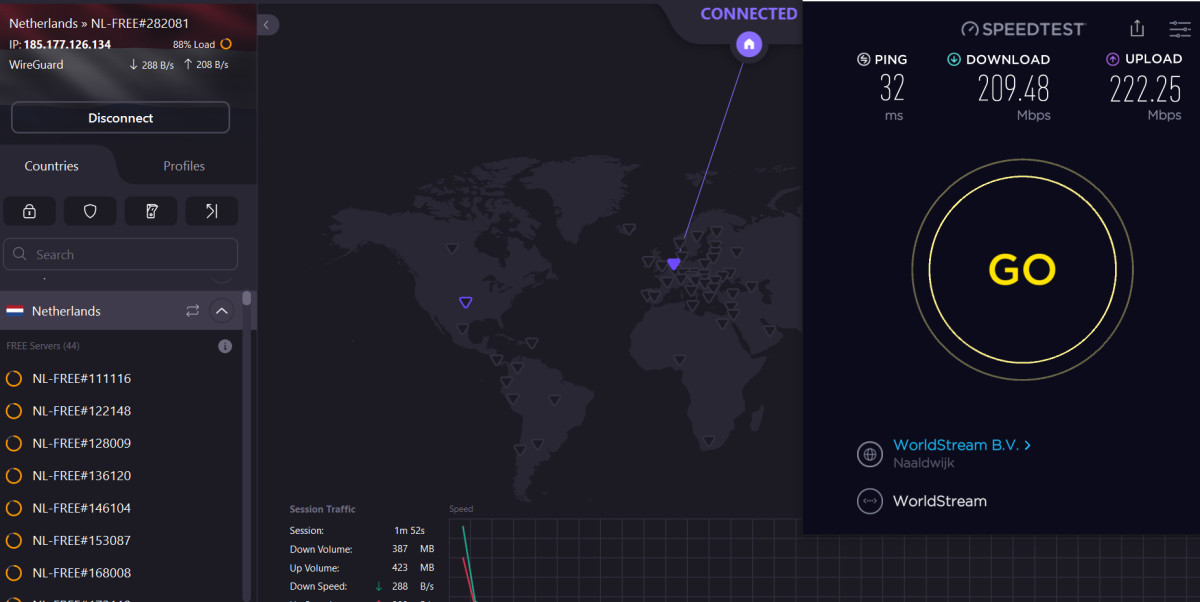 Proton VPN is a reliable VPN service with decent speeds.
As the most impact on performance is distance from a server location, Proton VPN has more than 1900 servers in 67 different countries which is more than enough to find the fastest one to fulfill one's needs. In addition, the provider offers to choose the fastest profile to automatically connect to the fastest server available. There are more features to increase the speed, such as VPN Accelerator which can noticeably increase your connection speed by a few times.
During our tests, Proton VPN showed decent speed results: we tested it on servers in three different locations, did it at different times of the day, and chose the WireGuard protocol. The result we got is 230 Mbps on average which is not the worst one by far.
Compared with other providers, you may notice that is not the fastest VPN service, but keep in mind that performance often relies on your location and speeds can significantly change once you pick a faster server or one that is in a closer location.
What apps does Proton VPN work with?
Proton VPN is compatible and works without issues with a quite large selection of devices. The main difference between apps is the number of features users are allowed to configure, such as kill switch, split tunneling, and others.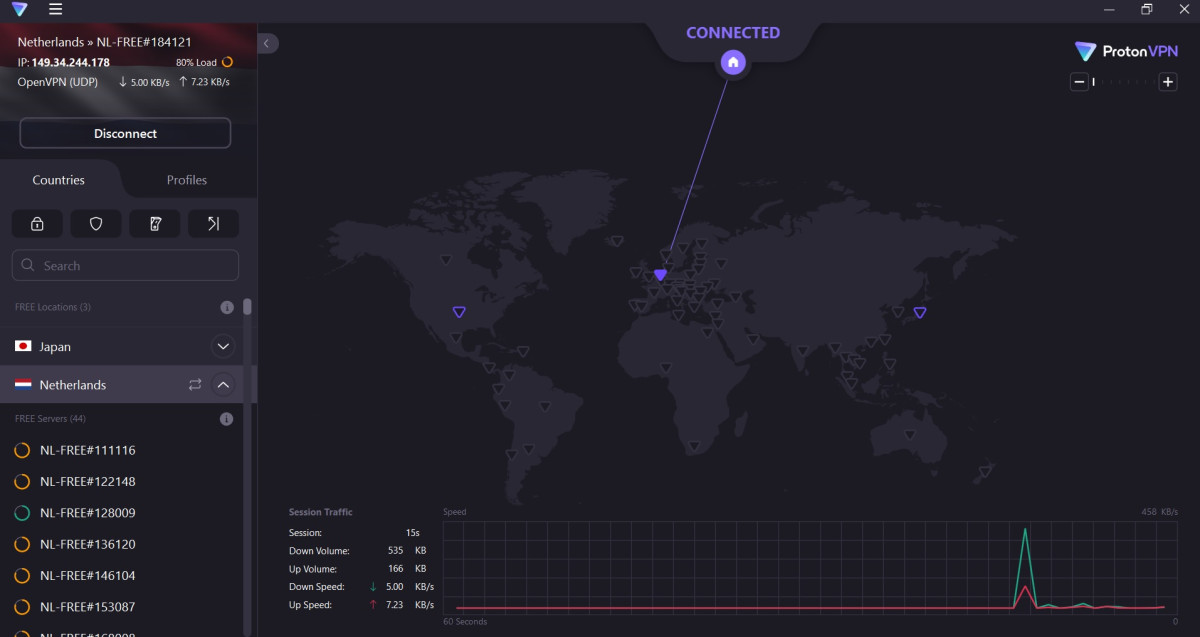 Proton VPN has a great and easy-to-use design on the app for every device.
We have made a list of the most important elements of Proton VPN apps and their customization abilities on different devices:
Windows
The Windows app is the most advanced and has the most extensive options among all available clients. The app is easy-to-use, has a simple interface, and lets users have a great variety of features to customize.
After installing and launching the app, users can simply click the 'Quick connect' button or pick a server of their choice manually. The app offers a kill switch, split tunneling with alternate routing, and port forwarding.
Depending on their needs, users can pick a protocol from all offered options (IKEv2/IPsec, OpenVPN (UDP and TCP), and WireGuard). In addition, it offers custom DNS servers, VPN Accelerator, and other advanced security features that make Windows apps the best available option for using ProtonVPN.
Android
Proton VPN app for Android is very similar to the one for Windows as it shares the same features. It is easy to use and customize your online security preferences on your phone.
Same as in the Windows app, users are offered to switch from all three provided protocols. A kill switch is available only as always-on.
For installing it anonymously, you can download the app through F-droid which lets you use the service without your Google Account knowing and monitoring your activity.
Mac
Proton VPN is available on macOS and performs nicely despite some disadvantages compared with the app for Windows. Unfortunately, some of the features are only for Windows users which can make Proton VPN less attractive to Mac users.
Regardless of some minuses, the interface of the Mac app is user-friendly and effortless to operate. It performs well and lets users change protocols from all the available options, has a kill switch, and an ad-blocker (Net-Shield).
Some unavailable features are split tunneling with alternative routing and Custom DNS Servers. Although Proton VPN offers another unique feature for Mac to notify unprotected networks – it is not available for Windows users and notifies about connection to the unprotected network.
iOS
Similar to Mac, Proton VPN apps on Apple phones have the same features and lack some that are available for Windows users. The interface and use are practically the same as on Android phones.
Apple users can use a kill switch which is even easier to use than on Android, but the app doesn't offer split tunneling and alternate routing. Although the app itself can be easier to navigate because there is a widget that you can add to your screen and connect to a server with one button hit.
Linux
Unlike many other providers, Proton VPN did not forget Linux users and offered them a decent version of its app, almost identical to the one for Windows. It has a kill switch and other crucial safety features, also it is easy to use. Moreover, it has a full GUI which is not so common.
Unfortunately, there are a few downsides – the Proton VPN app won't let you use all the protocols so you won't have the mentioned variety of them as WireGuard and IKEv2/IPsec are not available on Linux.
Router
Proton VPN app can be installed on some routers, but this provider does not recommend doing that unless you are an advanced technology user. It can only be set up on routers that support OpenVPN as a "Client" (not a "Server") and IKEv2 (not L2TP).
The easiest way is purchasing Invizbox which created a router specifically for ProtonVPN, but it is also compatible with AsusWRT, DD-WRT, OpenWRT, pfSense, Tomato, FreshTomato, and Vilfo routers.
After setting it up on your router, Proton VPN will work on the connected device without installing an app. Nevertheless, if you are not an experienced tech guru, we would not recommend installing it on your own.
Other devices
Besides mentioned devices, the Proton VPN app works with AndroidTV and is easily installable through Chromebook. It may be more complicated but still achievable on Fire TV, but you need a downloader app before installing it.
Other devices, like gaming consoles, only work with Proton VPN if you connect them to a router that has Proton VPN set up.
Is Proton VPN good for streaming?
Proton VPN is suitable for users that want to use the VPN for streaming – it can unblock main streaming platforms, like Netflix, Hulu, and many others. For users' convenience, the servers dedicated to streaming are marked with a triangle that resembles a play button, which is a nice touch while searching for the best option.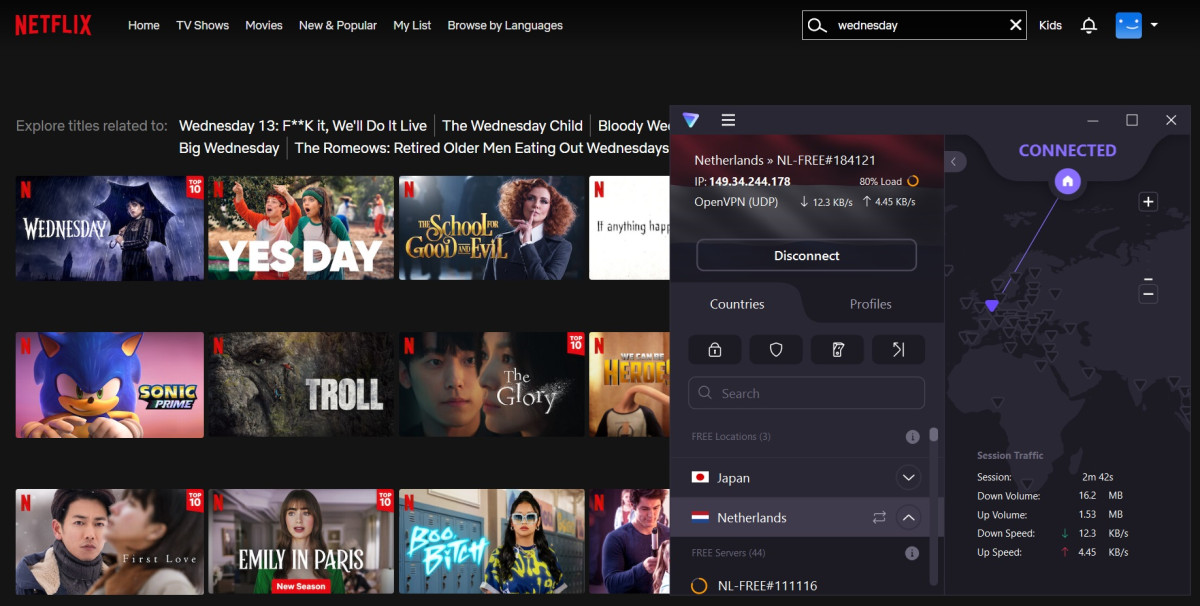 Proton VPN is great for streaming on many platforms.
It is not very surprising that the free version of the app is not as good of a choice for streaming. While it can connect to some popular streaming platforms, such as Netflix Originals, it is usually hard to find a free server that can unblock geo-restricted content as platforms can detect if you are using a free VPN.
It is different with premium plans, as Proton VPN showed impressive numbers of platforms it can unblock including region-restricted content. With an app, it was possible to reach all the top platforms: Netflix, Amazon Prime Video, Hulu, HBO Max, BBC iPlayer, and Disney+. This is a remarkable feature that makes Proton VPN a perfect choice for streaming.
Proton VPN for torrenting
Proton VPN is a good choice for torrenting because it has all the security features you need to be safe and anonymous, like a kill switch and leak protection. The provider offers many P2P servers (marked with two arrows symbols on the app) and doesn't apply any data limits to your downloads.
One possible downside could be the speed – if you aren't anywhere near the countries that have P2P servers, downloading speed can decrease noticeably. For your convenience, here are the countries in which P2P servers are located:
United States,
United Kingdom,
Switzerland,
Sweden,
Singapore,
Netherlands
Iceland,
Hungary,
Hong Kong,
Germany,
France,
Canada
Is Proton VPN safe?
Yes, Proton VPN is a safe and reliable VPN service. It has everything you need to provide you the maximum safety online: military-grade encryption, leak protection, a kill switch, and other features that keep your data safe. The company is registered in Switzerland which has one of the world's strongest legal protections and a strict no-logs policy.
If you are keen to try the free version and thinking if Proton VPN free is safe, we have the same answer – the provider takes your security seriously and it doesn't matter which plan you are considering choosing.
So, is Proton VPN secure? Here are our answers about the most important features that protect your traffic and privacy:
No-logs policy
Proton VPN has a strict no-logs policy, which means that the company does not collect or store any information about its users' online activities. This is an important feature for users who are concerned about their online privacy and want to ensure that their internet usage is not tracked or recorded.
Proton VPN does not log any information about the websites that users visit, the files that they download, or the content that they upload. Additionally, the company does not log any information about the IP addresses or the locations of its users. This means that Proton VPN cannot provide any information about its users to third parties, such as governments or law enforcement agencies, even if they request it.
Proton VPN no-logs policy is independently audited by a Swiss security firm to ensure that the company is following its privacy policy. This is also a guarantee that your data is kept safe and secure.
Encryption and protocols
Proton VPN uses advanced encryption standards, such as AES-256-GCM for data encryption and 4096-bit RSA key for the control channel, to protect users' online privacy and security. The service supports several different VPN protocols, including the industry standard OpenVPN, as well as IKEv2/IPSec and WireGuard.
The service allows users to choose the VPN protocol that best suits their needs, whether it's security, speed, or compatibility. The apps will automatically select the best protocol based on the user's network, but users can also manually select the protocol they prefer.
Proton VPN also uses perfect forward secrecy, this ensures that the encryption key for a session is generated anew for each session, this way even if one key is compromised, it won't affect the previous or future sessions.
Kill switch
Proton VPN has a fully functioning kill switch which is designed to protect users' online privacy and security in the event of an unexpected disconnection from the VPN server. It automatically blocks all internet traffic if the VPN connection is lost, preventing sensitive information from being transmitted over an unsecured connection.
Proton VPN kill switch is enabled by default on all its apps and can be easily configured from the settings menu. It can be set to either block all traffic or allow certain apps to work even if the VPN connection is lost. This will help you to avoid exposing your IP address and other personal information to your ISP or any other third party. This is useful for people who use applications that require a stable internet connection, like online gaming.
Split tunneling
Split tunneling allows users to select which apps or websites use the VPN connection and which use the regular internet connection. This feature is especially useful for users who want to use the VPN for certain activities, such as protecting their online privacy and security, while still being able to access local resources, such as a printer or a network drive.
With split tunneling, users can choose which apps or websites will go through the VPN, and which will use the regular internet connection. This allows users to access local resources while still keeping their online activities private. The feature is available for Windows, Mac, and Android.
Proton VPN also allows users to create custom rules to tunnel specific apps or websites through the VPN connection. This level of control allows users to optimize their connection for the apps and websites they use the most.
Leak protection
Proton VPN has several features to protect users from different types of leaks, these features include IPv6 Leak Protection, DNS Leak Protection, and WebRTC Leak Protection. All of them passed leak tests with the best results and you can be sure that your connection and traffic are private.
IPv6 Leak Protection blocks IPv6 traffic when the VPN connection is active, preventing IPv6 addresses from being leaked to the ISP or any other third party. DNS Leak Protection ensures that all DNS requests are sent through the VPN tunnel, preventing DNS leaks from revealing your true IP address. WebRTC Leak Protection blocks WebRTC traffic when the VPN connection is active.
These features are designed to protect users from different types of leaks that can compromise their online privacy and security. They are enabled by default in the Proton VPN apps, making it easy for users to protect themselves from leaks.
Secure Core
Proton VPN Secure Core feature is a unique infrastructure that routes the user's internet traffic through multiple servers before it reaches the Internet. This makes it much harder for anyone to track the user's online activity and trace it back to the device.
When a user connects to a Secure Core server, their traffic is first routed through a Secure Core server before being sent to the destination. This means that even if an attacker intercepts the user's traffic, they will only see the IP address of the Secure Core server, making it much harder to trace the user's activity back to the device.
Secure Core servers are located in countries with strong privacy laws, such as Iceland, Sweden, and Switzerland. This ensures that the user's traffic is protected by the strongest privacy laws in the world, which makes it harder for governments, hackers, and other malicious actors to intercept the user's traffic.
Secure Core also includes an additional layer of encryption, which helps to protect the user's traffic even further. This feature is also available on all of the paid plans, and it's recommended for users who are concerned about their online privacy and security.
NetShield (ad-blocker)
Proton VPN has a feature called NetShield which is an advanced ad-blocker. NetShield is designed to block ads, trackers, and malware while you're connected to the VPN. This feature is available on all of the paid plans of ProtonVPN, and it's considered a useful tool to enhance your online browsing experience.
NetShield works by using a combination of different technologies, such as DNS blocking and IP blocking, to block unwanted ads, trackers, and malware. Feature includes a built-in list of known ad trackers, which are regularly updated, this list is based on the tracking domains reported by the community. Users can also add their own custom blocklists to the feature, this allows users to block specific websites or types of content.
NetShield can also be used in conjunction with other ad-blockers, such as browser extensions, and this will provide an additional layer of protection.
Proton VPN pricing
Is Proton VPN free? Yes, but it offers more for clients with paid plans. The service offers a range of pricing plans, with the free version providing access to servers in three countries and the ability to use one device at a time. The paid versions of ProtonVPN, called Proton VPN Plus, offer more features, such as access to additional server locations, higher connection speeds, and support for more devices. All paid plans also come with a 30-day money-back guarantee.

Proton VPN has different deals to choose from.
The Plus plans offered by ProtonVPN are priced at $9.99 per month, $5.99 per month for an annual plan, and $4.99 per month for a two-year term. This pricing is a little bit higher compared to other top providers' plans, but its features are worth the cost.
After choosing a suitable plan and confirming it, users can pay in many ways: via credit card, PayPal, bank transfers, cash, or Bitcoin. It's important for the users that, for example, want to keep their privacy and pay by crypto assets.
Does Proton VPN work in China?
Unfortunately, Proton VPN isn't the best choice for use in China. As was stated in 2019, the VPN was banned by the Chinese government on September 18 as part of a larger crackdown on Internet freedom. This means that the VPN provider does not offer a reliable way to use an app in China.
Although it is not easy to reach within the Great Firewall, some servers should still be able to bypass restrictions, but the company seems to have given up on China. It is better to look for other providers to ensure a reliable way to bypass blocks.
Proton VPN servers locations
Proton VPN offers a wide variety of server locations to users, catering to the different needs of users all over the world. At the moment of writing, the provider has more than 1900 servers in 67 countries, and the server network is constantly expanding.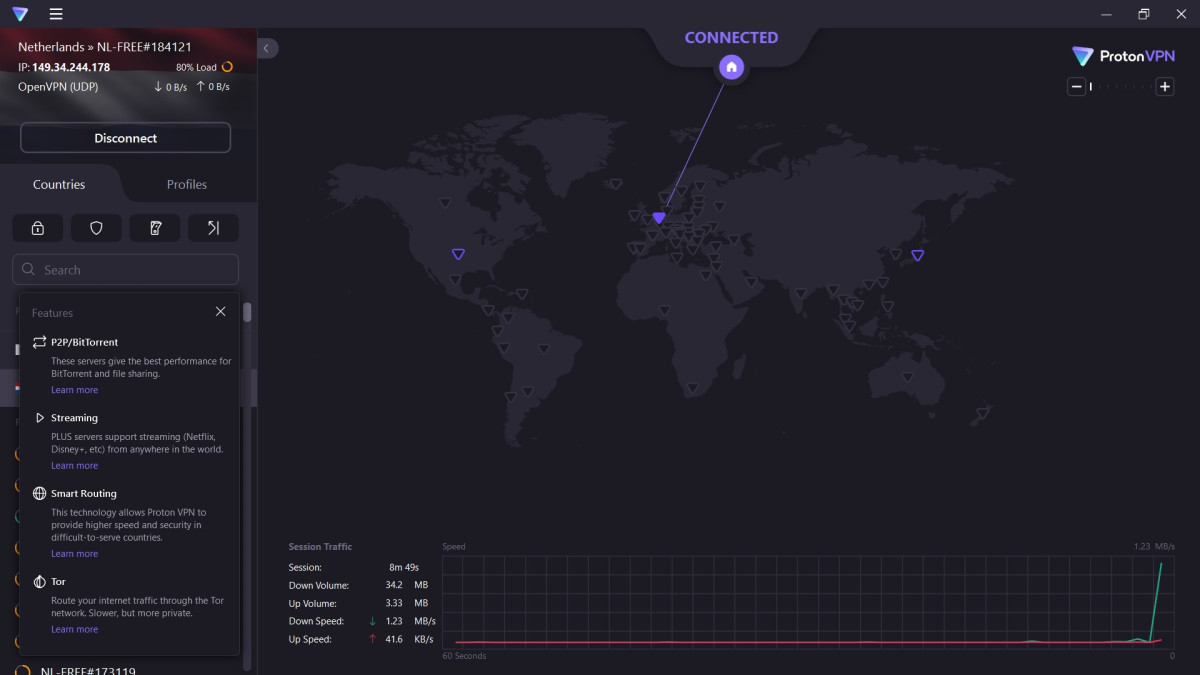 Proton VPN has various server options for your best browsing experience.
If you are using the free version, only three locations are available – Japan, the Netherlands, and the USA. As it is not a bad number for a completely free and secure VPN service, premium plan users have incomparably more servers and can choose from different options.
Proton VPN Plus users can choose from a variety of servers that have unique markers to easily spot them on the interface of the app. The options of the servers include:
Plus servers (a play button) that are perfect for reaching streaming platforms
P2P servers (the two arrows) are ideal for torrenting
Tor servers (a green onion) for using the Tor network
Secure Core (activated by pressing the lock icon above the list of the servers) for your extra safety
The wide variety of options to upgrade your browsing and designed to help you to reach wanted platforms or sites faster is a very solid move of ProtonVPN. In addition, the provider doesn't use third-party DNS servers and adds an ultra-safe layer with bare-metal servers to make you feel safe.
How to install ProtonVPN?
Installing Proton VPN is easy and usually doesn't take more than a few minutes on most devices.
Here is a simple step-by-step guide on how to install it on a desktop:
Go to Proton VPN website and pick a subscription plan of your choice.
Download and install the Proton VPN app.
Open the app and sign in.
Pick a server and connect.
That's it – you're ready to browse safely with ProtonVPN.
The process of installing it on a mobile device is just as uncomplicated. Here's how you do it:
Go to your device app store and download the Proton VPN app.
Start the app and sign in.
Connect to your preferred server.
You are all set to browse anonymously on your phone.
It might be a little bit tricky to install the VPN app on other devices. If you are using anything other than Android TV, you may need a downloader app that is going to help you install the app on your smart TV.
On any other unsupported devices, like game consoles, you are going to need to connect Proton VPN to your router – here are all the instructions you need to set it up. Be sure to follow them as there is a slight chance of breaking the device if done incorrectly.
Reliability & support
Proton VPN customer support is considered quite reliable and helpful, especially for technical inquiries. The provider offers a variety of ways for customers to get support, including a knowledge base, an FAQ section, and a support ticket system. The company also offers a community forum where users can ask and answer questions, share tips, and provide feedback.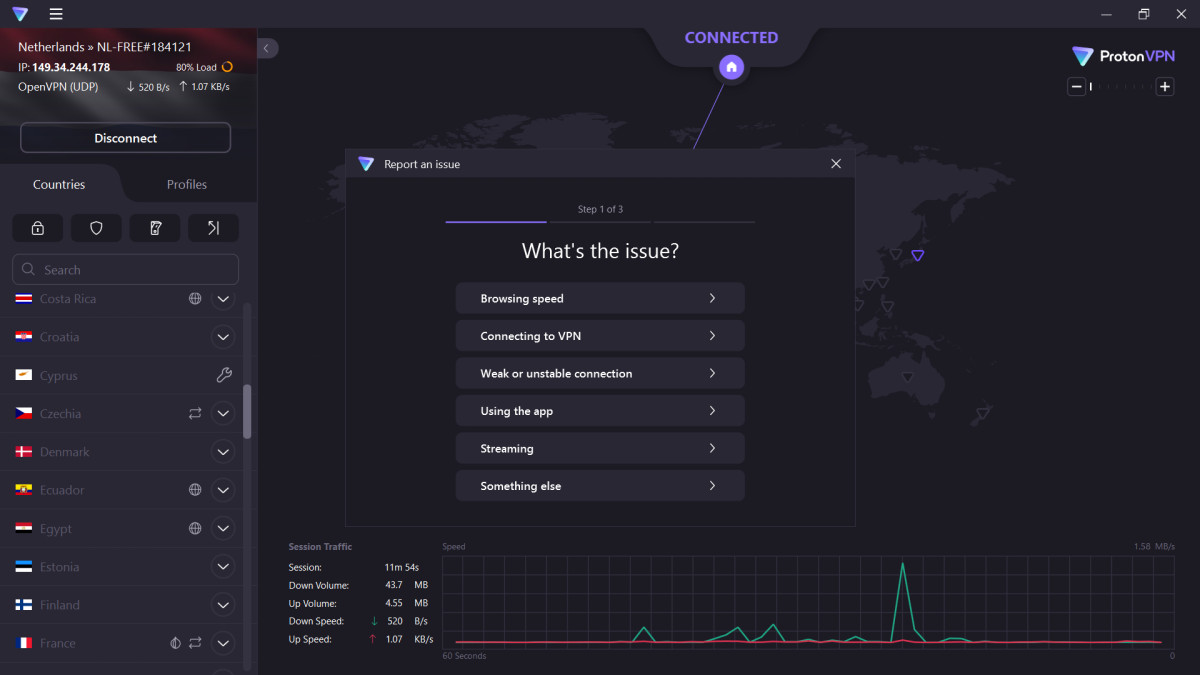 Proton VPN has a good customer support service.
Proton VPN knowledge base and FAQ section cover a wide range of topics, such as how to install and use the VPN service, troubleshooting common problems, and understanding the features and settings of the software. It is easy to navigate and search, which makes it easy for users to find the information they need.
Proton VPN support ticket system is designed to help customers get quick and efficient help with their issues. Users can submit a support ticket by visiting the company's website and filling out a form with their contact information and the details of their problem. They will receive a response from a Proton VPN support agent as soon as possible.
Bottom line
If you would ask "Is Proton VPN legit?", we are saying yes. Our testing showed that Proton VPN is a decent and reliable service that has plenty of features that will make you anonymous and untraceable online. It is an incredibly secure VPN service that offers a wide range of features and advanced security options, such as a strict no-logs policy, a kill switch, split tunneling, and leak protection.
The company also offers an array of protocols, the server network is constantly expanding and it offers extra features such as Secure Core, P2P servers, and NetShield (an ad-blocker) which are unique to the service.
In addition, it is easily installed on most common devices and is easy to use. The design and interface are made for the best user experience even for those that have never used a VPN service before.
The biggest minus could be the price of the service as the lowest monthly cost is $4.49. Although given the variety of features and how advanced they are, it should not be a problem to pay a little extra to be sure that you and your digital steps online are secure.
Frequently asked questions
Yes, Proton VPN is considered to be a safe VPN option by many security experts and users. The VPN uses strong encryption protocols, such as OpenVPN and IKEv2/IPSec, to protect users' internet connections. Additionally, Proton VPN has several security features, such as a kill switch and Secure Core servers, which are designed to protect users against network attacks.
Proton VPN is considered to have good performance and speed, it also doesn't throttle your internet connection. Any VPN service that you use will likely have some impact on connection speed – it depends on the user's location and connection. That's why it is recommended to test different server locations and protocols to find the best connection for specific usage.
Comparing Proton VPN and ExpressVPN is difficult as they both are high-quality VPN services that offer many similar features and are well-regarded in the industry. Proton VPN is considered to be a good choice for users who prioritize privacy and security, while ExpressVPN is known for its fast connection speeds and global server coverage. Ultimately, whether Proton VPN or ExpressVPN is better for you will depend on your specific needs and priorities.
Yes, Proton VPN is a trustworthy VPN service provider. The company is based in Switzerland, which is known for having strong data protection laws, and they have a strict no-logs policy which means they don't keep any information about their users' online activities. They also have an independent security audit that has been conducted to verify their claims of having a no-logs policy, to ensure that they follow their privacy policy. They also have strong encryption protocols to protect users' online activities and have additional security features.