We may receive commissions for purchases made through links on our website. We appreciate your support.

When you search for a free Android VPN, you will find conflicting opinions. Some people believe that using a free VPN is better than having no protection at all, while others warn that these services can be dangerous. In reality, both can be true. However, the truth is that you can find a reliable free VPN for your Android device.

There are two ways to go: you can either use a premium VPN for over a month without paying or get a completely free service. Forever free Android VPNs come with a limited selection of servers, slower speeds, and fewer features though. Meanwhile, premium VPNs are secure, fast, and help you bypass various geo-restrictions.

Use a premium Android VPN for free
ExpressVPN is one of the most secure Android VPNs on the market. With it, you will be able to unblock various Netflix catalogs and enjoy complete online privacy for free for over a month.
Fast and stable connection speeds
Top-notch security features
30-day money-back guarantee
Try ExpressVPN
In this article, you will find a list of the best free VPNs for Android in 2023 that either offer free trials or completely free plans. We will review their security features and performance, as well as compare them side by side. Whether you want a free trial or a completely free VPN plan, you will find it on our list.
Top 5 free VPNs for Android devices
The best free VPNs for Android
We tested over 30 completely free VPNs and VPNs with free trials. Here, you will find a list of the final best 5 free VPNs for Android that provide you with essential security features, ensure good connection speed, help you unblock different streaming services, and don't compromise your privacy.
1. ExpressVPN – The best free trial Android VPN of 2023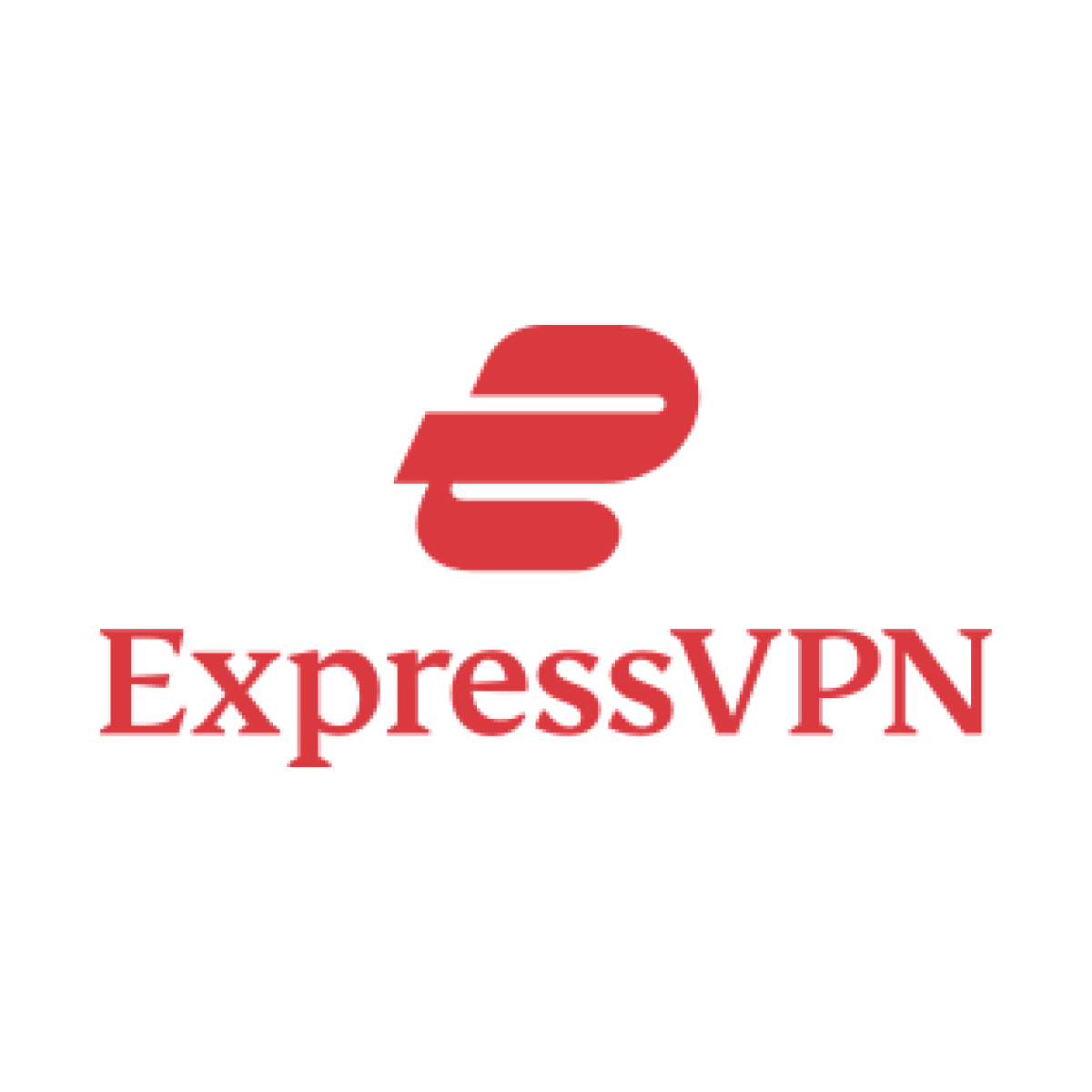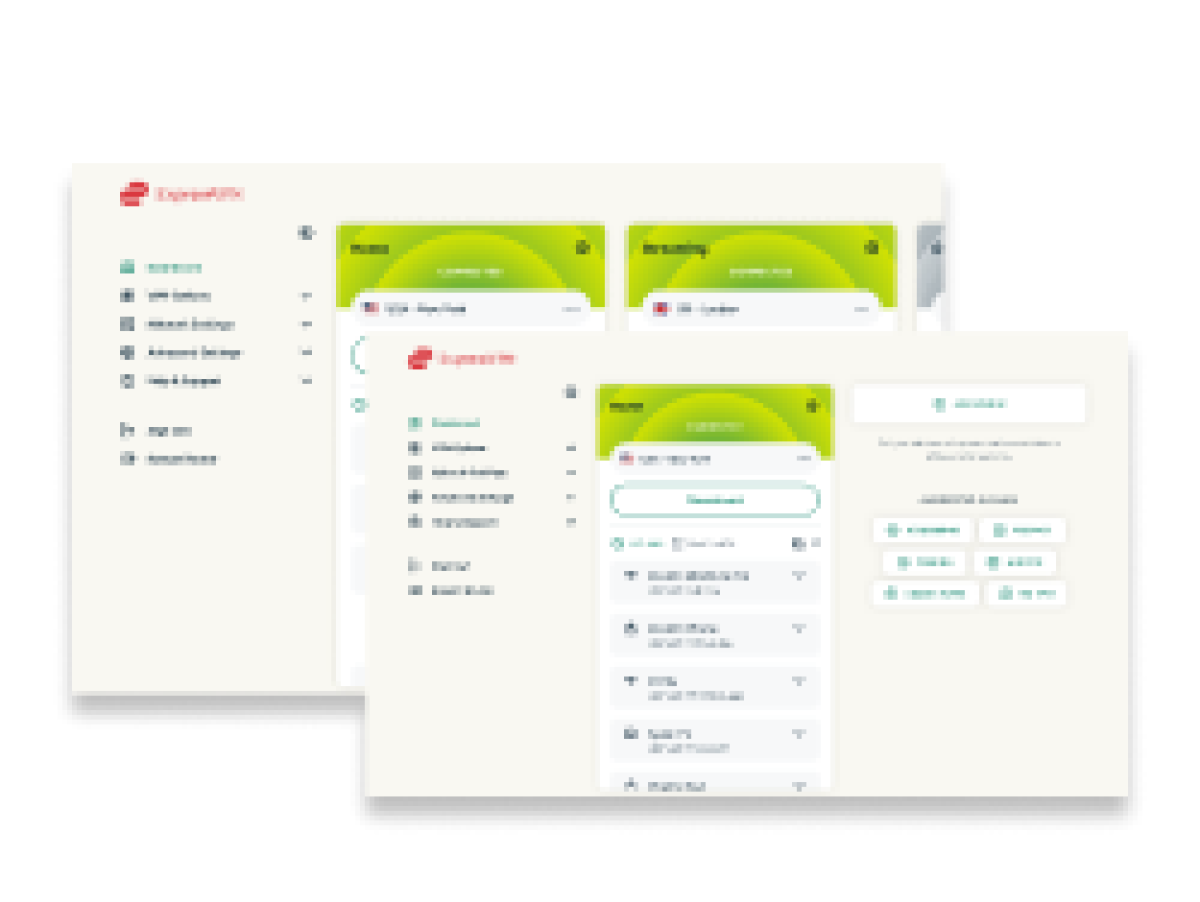 Pros & cons
Unblocks all popular streaming services
Comes with unlimited data
Android app has advanced security features
Retains fast connection speeds
Free for over 30 days
ExpressVPN is the best free trial VPN for Android with unlimited data, a next-get suite of features, and fast speeds. Although it doesn't have a forever free subscription, you can combine its 7-day free trial with a 30-day money-back guarantee and have a supreme free Android VPN for 37 days overall.
| | |
| --- | --- |
| Number of servers | 3000+ servers in 105 countries |
| Location | British Virgin Islands |
| Simultaneous connections | 8 |
Different from completely free Android VPNs, ExpressVPN provides you with a myriad of servers around the globe. Combining the server fleet with excellent unblocking capabilities allows you to switch between different Netflix regions anywhere effortlessly.
Another reason to download this best free VPN for Android is the set of security features. ExpressVPN offers you two best encryption ciphers – either AES-256 or XChaCha20, depending on which tunneling protocol you choose. If it's the proprietary Lightway tunnel, then you get the latter encryption cipher. The provider will also strongly improve your browsing on an Android smartphone quality by blocking ads and protecting your passwords.
To use ExpressVPN for free, head to the Google Play store, download the app, use a free trial, and then hop on a 30-day money-back guarantee. Once the free month ends, the prices start from $6.67/month.
Learn more about the features in our detailed ExpressVPN review.
2. NordVPN – Free trial Android VPN that works for streaming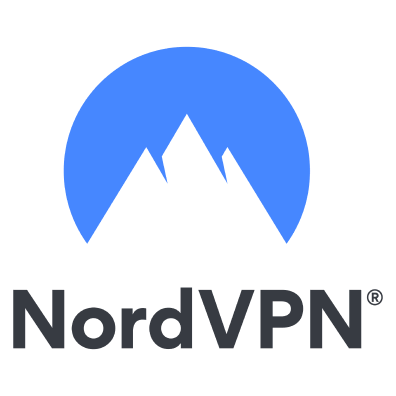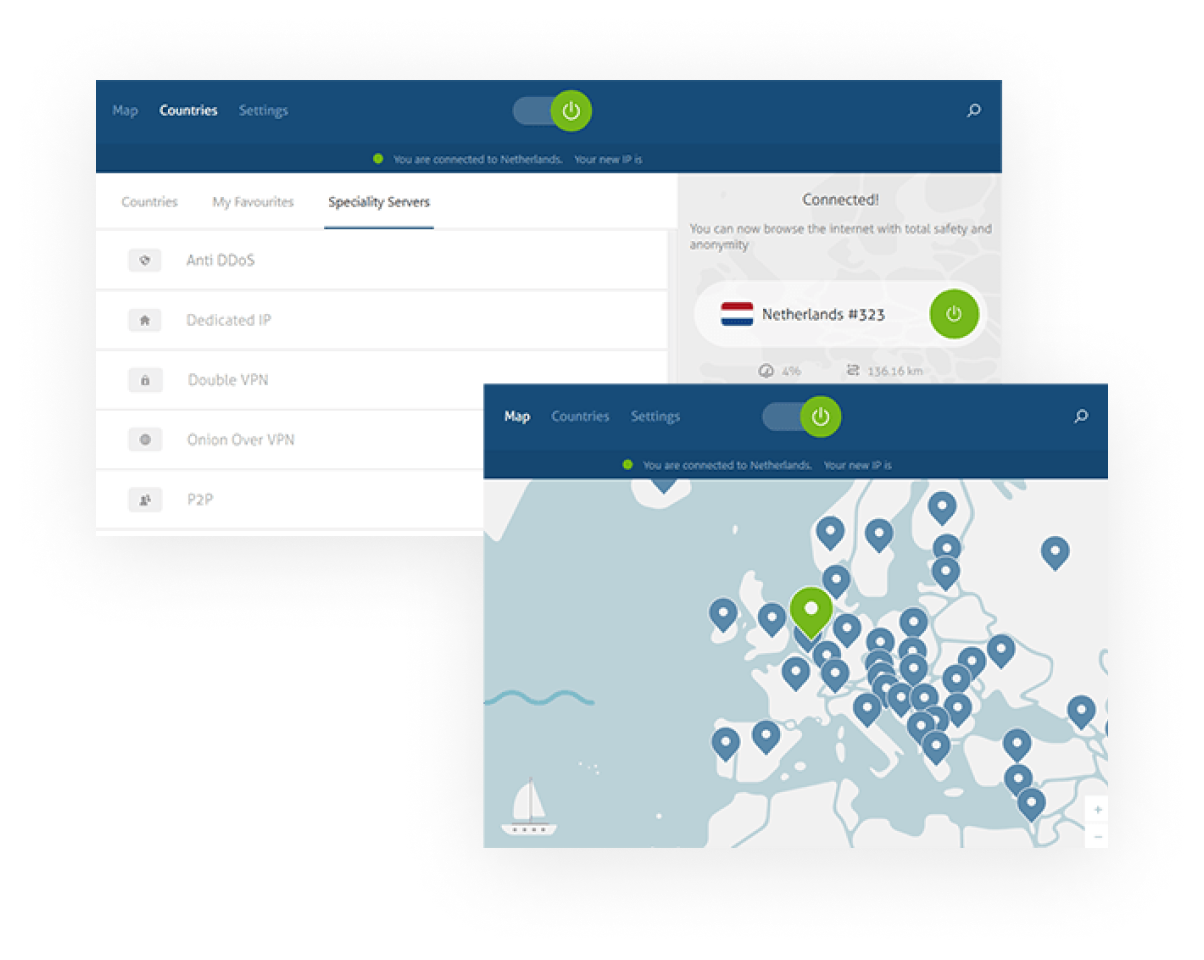 Pros & cons
Allows streaming in full HD
Unblocks Netflix, Hulu, Max, and other services
Intuitive Android application
Has a built-in ad blocker
37-day free trial
Doesn't have a completely free plan
Kill switch feature may lag
NordVPN is one of the best risk-free Android VPNs that bypasses even the toughest geo-blocks. The provider doesn't have a completely free plan, but it lets you benefit from a 7-day free trial together with a 30-day money-back guarantee. This way, you will be able to have a reliable free unlimited VPN service for Android for over a month.
| | |
| --- | --- |
| Number of servers | 5810+ servers in 60 countries |
| Location | Panama |
| Simultaneous connections | 6 |
With this VPN, you get unlimited data and no speed caps. The provider uses the advanced NordLynx tunneling protocol, which retains around 90% of the original connection speed. It has also helped us to unblock Netflix Japan, the US, and the UK, as well as other streaming services. Hence, NordVPN is a great free Android VPN for cinema lovers.
Unlike most free VPNs for Android smartphones, NordVPN ensures top-class security. It encrypts your data with an AES-256 cipher, effectively blocks ads or trackers, and always secures your IP with the kill switch feature. Moreover, the provider follows a strict no-logs policy.
NordVPN's 7-day free trial is dedicated exclusively to Android users, as it's only available through a Google Play store. There's also a risk-free 30-day money-back guarantee, and premium prices start from $2.99/month.
Get to know the service better in our NordVPN review.
3. AtlasVPN – User-friendly free VPN for Android phones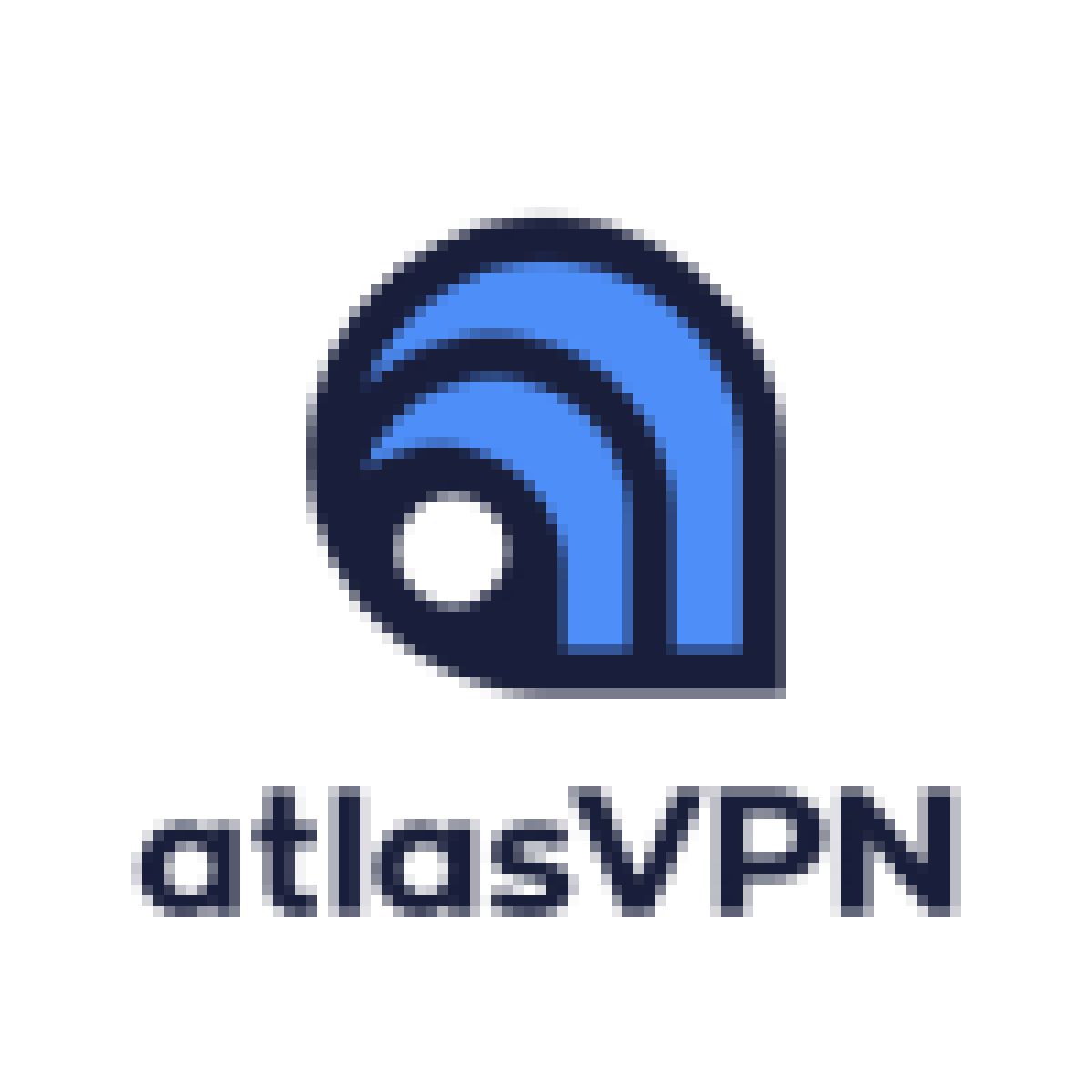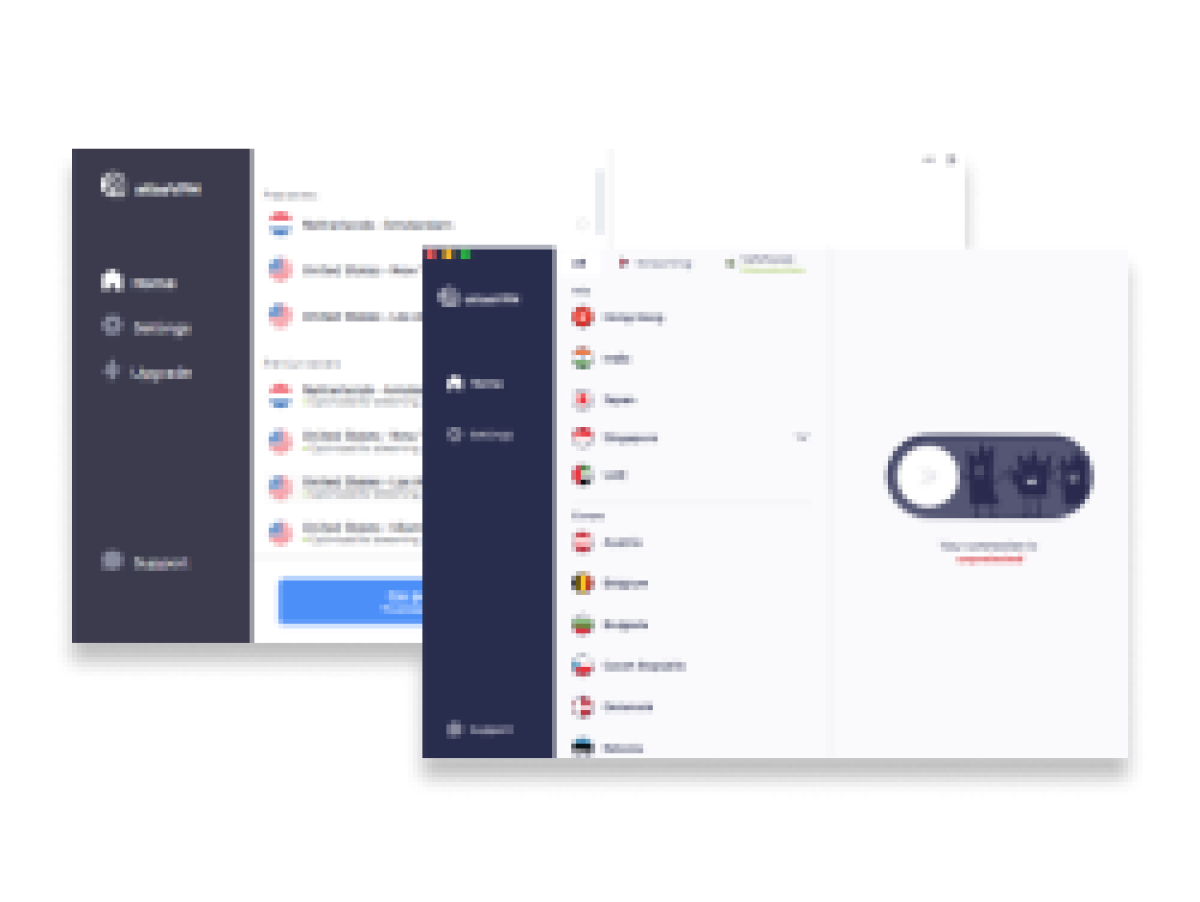 Pros & cons
Completely free and reliable VPN
Intuitive Android application
Allows unlimited simultaneous connections
Doesn't limit bandwidth
Free plan comes with a 5 GB data cap
Free servers are in only 3 locations
AtlasVPN is an excellent Android VPN with no charges for beginners due to its intuitive UI and stance on privacy. With this provider, you have two free VPN use options. The one we'd go for is the combination of a 7-day free trial and a 30-day money-back guarantee. However, it also has a completely free VPN plan.
| | |
| --- | --- |
| Number of servers | 1000+ servers in 42 countries |
| Location | Delaware, United States |
| Simultaneous connections | Unlimited |
When it comes to a premium subscription plan, Atlas VPN has unlimited data, servers in nearly 50 countries, and helps you unblock Netflix, Disney+, or Max, among others. You can use the WireGuard tunnel, which ensures a fast and secure connection. And there are also extra features, such as the Shield for blocking bogus websites or Data breach monitoring.
In the meantime, the free Atlas VPN version protects one device at a time and has only three server locations: Netherlands (Amsterdam), USA (Los Angeles), and USA (New York). You are also limited to a 5 GB monthly cap and there's only a kill switch feature apart from essential security measures. Moreover, a free plan doesn't help with bypassing geo-restrictions.
If you're a beginner and only need a VPN for a short time while handling sensitive information, the free version of AtlasVPN is a great choice. However, if you want to enjoy streaming content and have more control over your online privacy, go for the paid version of AtlasVPN from $1.64/month. With a 37-day risk-free trial, you'll be able to experience all benefits without any worries.
4. Proton VPN - Secure free VPN for Android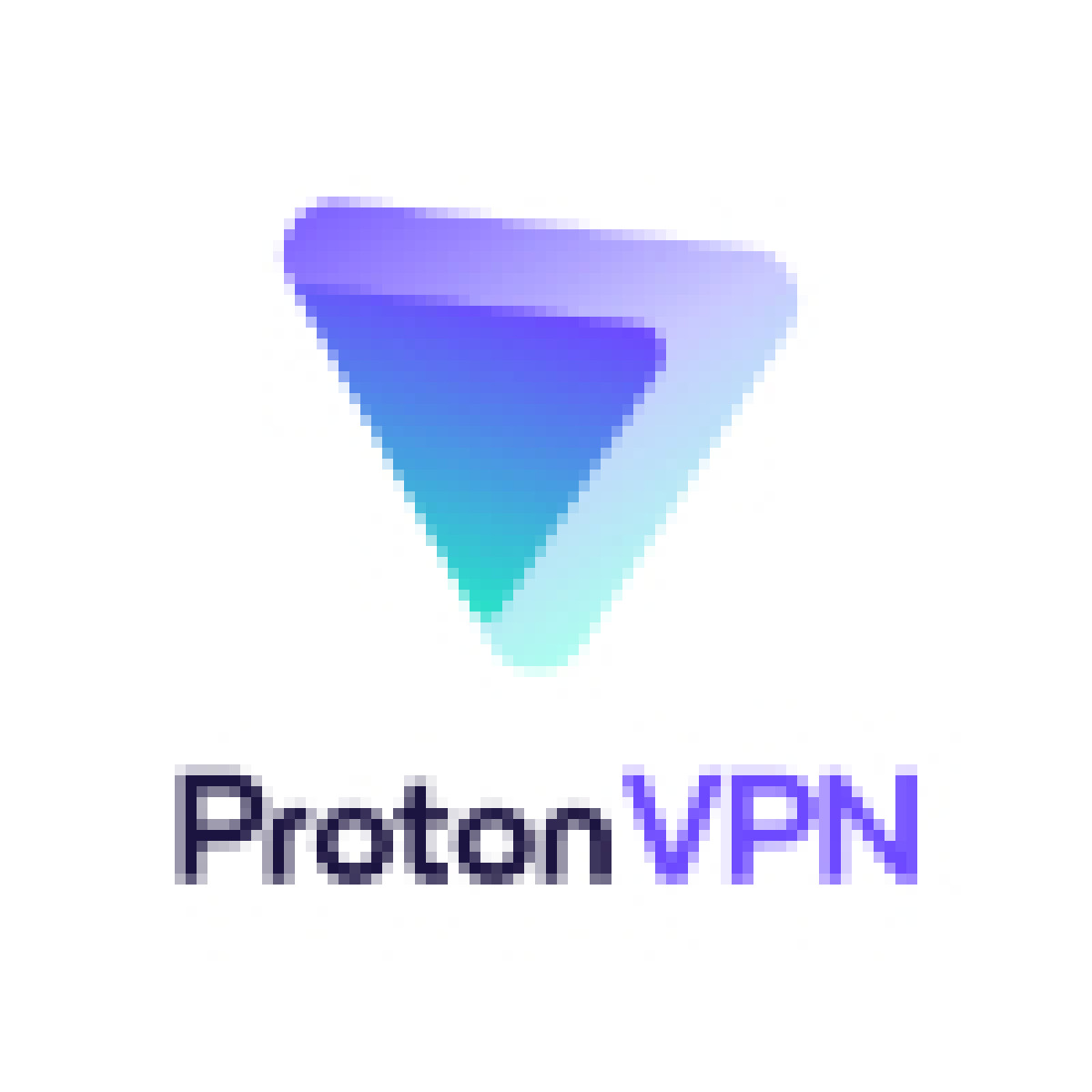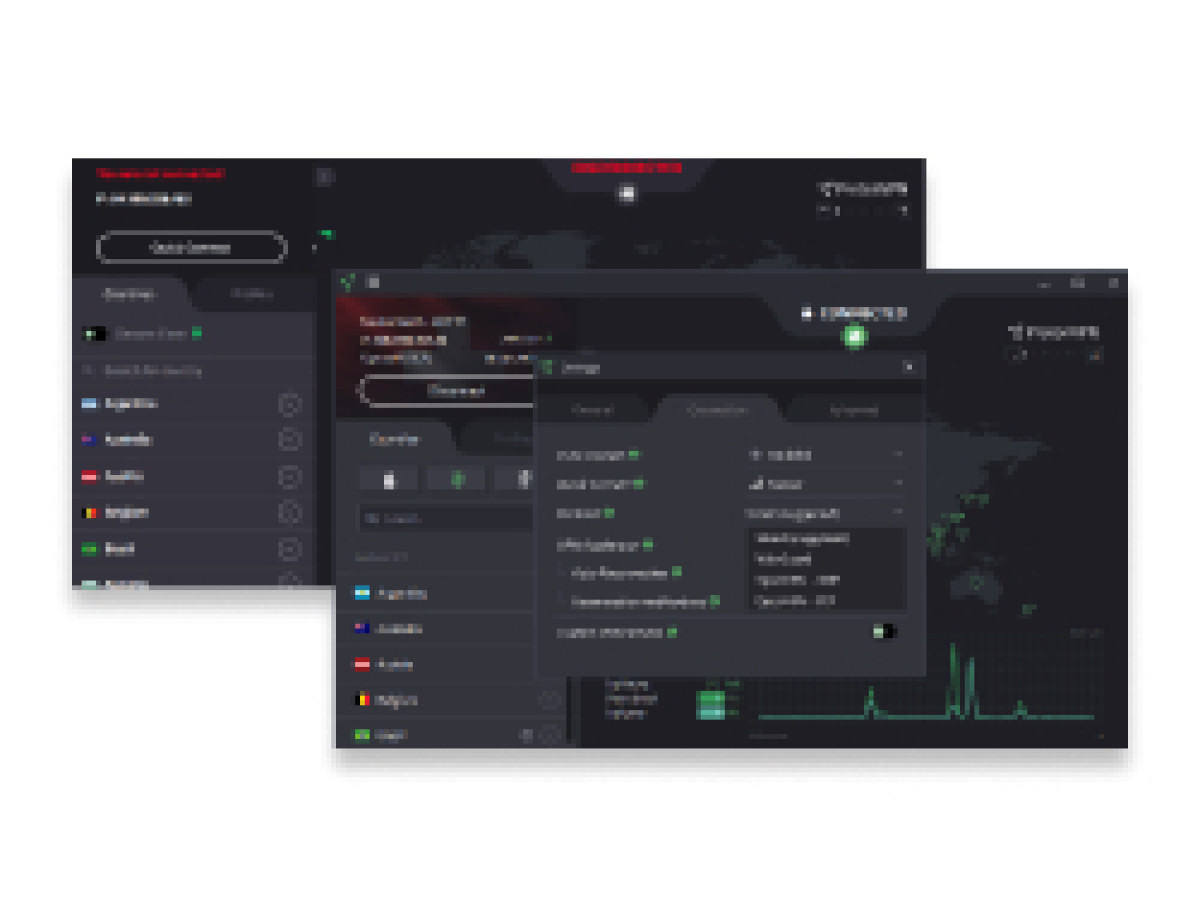 Pros & cons
Unlimited data for free users
Uses market-leading tunneling protocol
Doesn't show ads in the application
Free servers in three countries
One free connection at a time
Doesn't work for streaming well
Created by the same people who gave us Proton Mail, an end-to-end encrypted email app, Proton VPN is the most secure free VPN for Android smartphones. It has unlimited data, which means you can use it as much as you want. You won't be bombarded with ads on your Android because it has a no-log policy and it's located in Switzerland, a non-5/9/14 Eyes country.
| | |
| --- | --- |
| Number of servers | 2900+ servers in 67 countries |
| Location | Switzerland |
| Simultaneous connections | 10 |
With the free Proton VPN plan, you get 3 server locations: Japan, the Netherlands, and the United States. Your online traffic undergoes market-leading AES-256 encryption. There are features like a kill switch that protects your IP when a VPN connection drops and DNS leak protection that keeps your data from getting into the wrong hands.
Netflix is hard to unblock with a free VPN, but we managed to unblock Netflix US, Max, and other streaming services with the paid Proton VPN Android app while using a risk-free trial. What we also found was that the premium version retained much faster speeds, had more servers (), and provided with extra features like the Proton Pass password manager.
Proton VPN's free plan for Android devices is undeniably one of the best we've ever seen. However, using a 30-day money-back guarantee and enjoying premium features gives you many more online opportunities and more safety. The prices start .
To find out more, check our Proton VPN review.
5. PrivadoVPN – Best free Android VPN for travel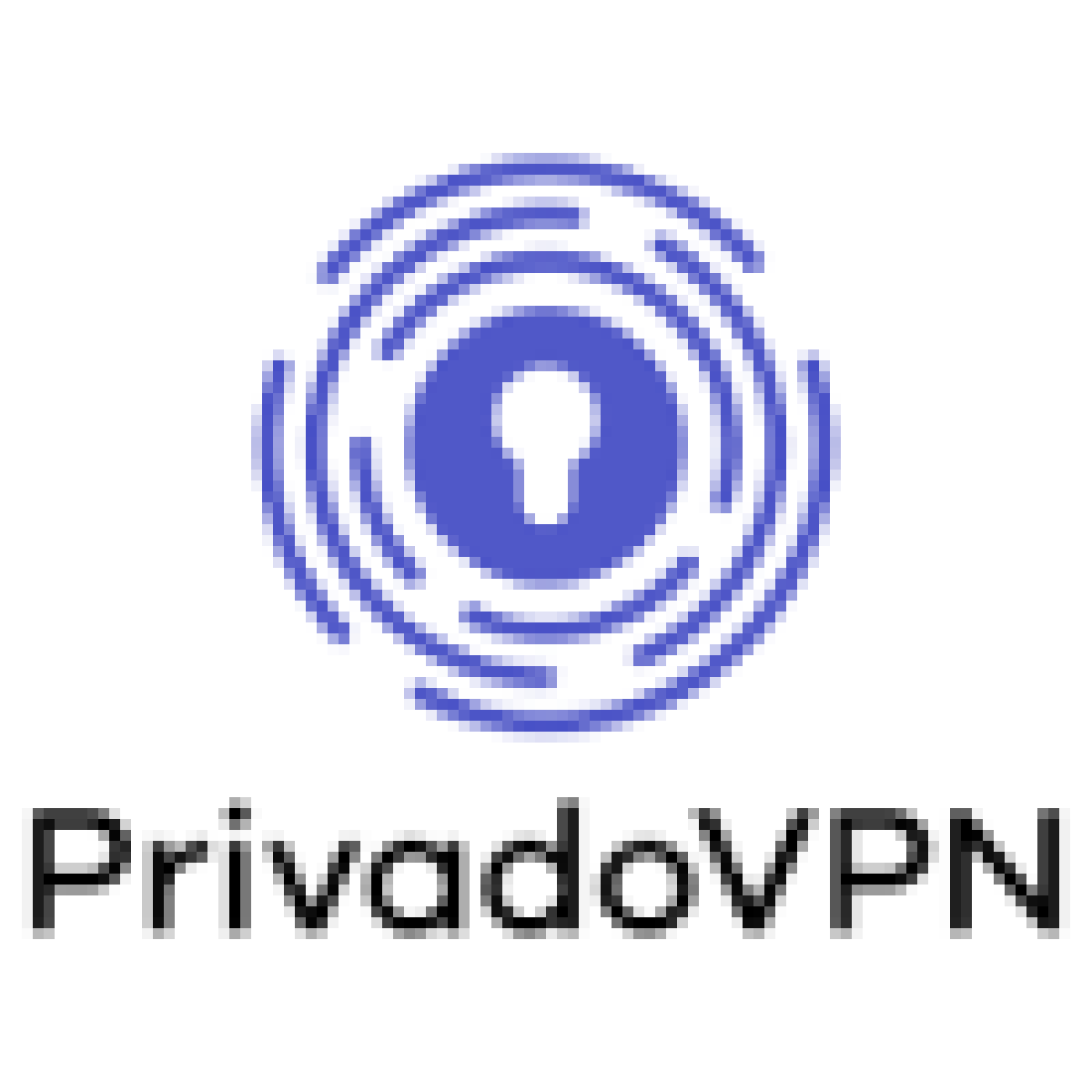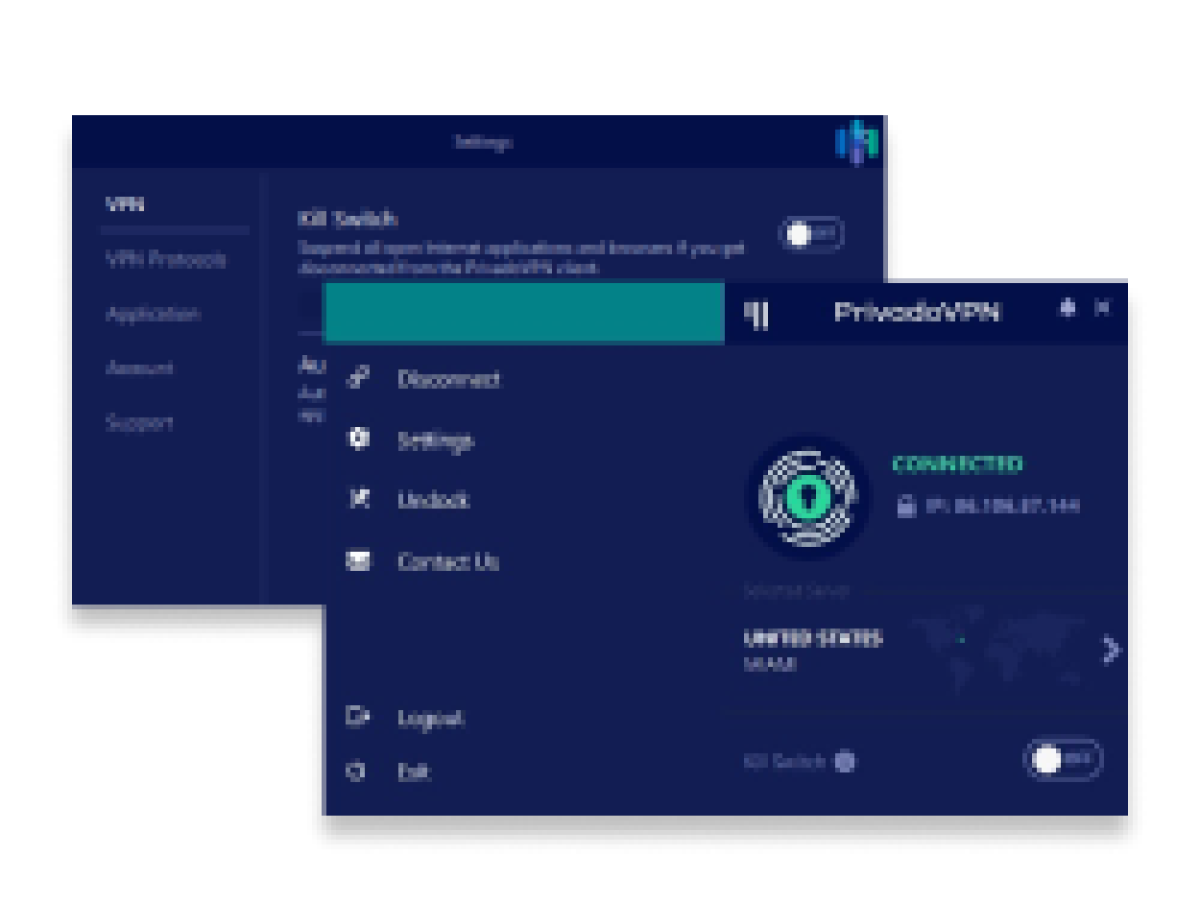 Pros & cons
Free users get 10 server locations
10 GB per month for free
Uses the WireGuard tunnel
Follows a no-logs policy
Speeds can be inconsistent
Secures only one device for free
PrivadoVPN is a great free VPN for Android as long as you stay within the 10 GB monthly data limit. Once you've consumed all your data, all servers except one will become unavailable and its speed will be capped at 1 Mbps. That being said, it's one of the few free VPNs for Android that respects its users' privacy.
| | |
| --- | --- |
| Number of servers | 319 servers in 46 countries |
| Location | Switzerland |
| Simultaneous connections | 10 |
It's based in Switzerland and it doesn't collect any logs. You can safely use it without worrying about advertisers stealing your data and showing you targeted ads. There are a total of 12 server locations, two of which are in the USA and the UK, making it a good free travel VPN.
We were able to play Amazon Prime and Disney+ without any problem, but it didn't work with Netflix. The streaming experience gets better once we test the premium version, as then we open Netflix US and UK effortlessly. Aside from streaming, the premium plan also provides us with a functional ad blocker and even malware protection, not to mention unlimited monthly data.
Using PrivadoVPN as a reliable free Android VPN with a 30-day money-back guarantee also allows you to have up to 10 simultaneous connections. So, if you choose to get the plan that costs from $1.11/month, you will not only be able to have unlimited streaming experience but also protect your whole household.
Read our in-depth PrivadoVPN review to get more details.
Other top Android VPNs without cost we tested
If you haven't found a suitable free Android VPN among the top 5 recommendations, don't worry, we have more options for you. Check out the following Android VPN reviews to find a reliable and completely free service that meets your needs:
CyberGhost – this is one of the most likable VPNs on the market. With it, you can use a VPN service on your Android risk-free for 46 days in a row. The provider is excellent at unblocking streaming services and retaining fast connection speeds. It also provides you with dedicated servers for streaming, gaming, and torrenting, among other features.
Windscribe – is another great free VPN for Android. It has 11 free server locations but limits you to a 2 GB monthly data cap unless you give your email address in exchange for an extra 8 GB. The provider uses AES-256 encryption, follows a no-logs policy, and gives you a functional kill switch, a free SOCKS5 proxy, and even an ad blocker.
Hide.me VPN – this free Android VPN provides you with 5 GP monthly data and allows you to select from 5 server locations. The service doesn't collect your activity logs and uses market-leading encryption to mask your traffic. Additionally, you receive split tunneling for customizing your VPN traffic, a kill switch, and DNS leak protection.
Methodology: how we tested free Android VPNs
Compiling a list of the best free VPNs for Android 2023 required us to evaluate a number of different features. However, these come to be the most critical ones when helping you find a top-rated VPN with no cost for a smartphone or a tablet:
Data cap – The best unlimited free VPN for Android is rare but the most wanted to find. During our selection, we looked for providers that had no data caps or had the biggest monthly data allowance.
Number of servers – Most free VPNs have a very limited server network, which is why they're not ideal for streaming geo-restricted content. We made sure we included free VPNs that have a sufficient amount of servers on different continents.
Privacy – There have been cases where free-of-cost VPNs collect and sell their users' data to the government and other third parties. Therefore, we have chosen only those free Android VPNs that follow strict no-log policies.
Security features – Many free VPN services tend to use outdated security features and avoid adding additional ones. That's why we thoroughly went through each provider's Android app and looked for advanced encryption, tunneling protocols, a kill switch feature, and split tunneling, among other crucial tools.
Performance – Apart from data caps, some free VPNs tend to limit your connection speed. During our tests, we made sure that selected free Android VPNs retained stable network speed and had no speed caps.
Do I really need a free VPN on Android phone?
Whether you need a free VPN on your Android device depends on several aspects. If you're planning on using a VPN only for a short time or you simply want to find out how this cybersecurity tool works, then getting a free VPN is a good choice.
Nevertheless, bear in mind that free VPNs for Android or other devices come with data caps and even more limitations. For example, instead of regular thousands of servers, you receive only 100 in a couple of locations. Similarly, there are only a few security features that usually don't function as they should. That said, unlike premium VPNs, free Android VPNs aren't suitable for bypassing geo-restrictions or lasting online protection.
If you're aiming for enhanced online safety and unrestricted browsing, getting a premium VPN service like ExpressVPN is a much better solution. With Android VPNs like this one, you receive extensive server fleets, top-notch security features, and numerous unblocked streaming services. Moreover, most paid VPNs offer free trials and money-back guarantees, allowing you to use the service risk-free.
Comparison of free VPNs for Android devices
In this section, you will find each top-rated free VPN for Android put side to side and their features compared:
| | | | | | |
| --- | --- | --- | --- | --- | --- |
| | ExpressVPN | NordVPN | Atlas VPN | Proton VPN | PrivadoVPN |
| Data cap: | Unlimited | Unlimited | 5 GB | Unlimited | 10 GB |
| No logs policy: | Yes | Yes | Yes | Yes | Yes |
| Encryption: | AES-256 | AES-256 | AES-256 | AES-256 | AES-256 |
| Kill switch: | Yes | Yes | Yes | Yes | Yes |
| Unblocks Netflix: | Yes | Yes | Yes (paid version only) | Yes (paid version only) | Yes (paid version only) |
How to use a premium VPN on Android device for free
Downloading and using a free VPN on Android is easy and only requires a few simple steps. Here's what the process looks like:
Choose a free VPN that has the app for Android. We recommend ExpressVPN.
Download the VPN APK file for Android or the application (free trial works with the Google Play store app only.)
Install the software.
Connect to a selected server.
Subscribe to a service for a 30-day risk-free trial.
Is it safe to use a free VPN on Android?
Yes, the provided free Android VPNs on the list are safe to use. However, the majority of the free VPN market is known for collecting user logs and sharing their data with third parties. Additionally, most no-cost VPN providers have poor service quality.
That said, you receive only several server locations with not enough servers to enjoy stable connection speeds worldwide. Similarly, the security features of free VPNs are often outdated, which can put your online safety at risk. Finally, only a handful of free VPNs are capable of bypassing geo-restrictions, especially when it comes to changing the Netflix region.
Completely free Android VPNs come in handy when taking a short trip or simply testing the service. However, for lasting protection and online freedom, it's recommended to use a premium VPN service that offers an intuitive Android app.
Premium VPNs, like ExpressVPN and NordVPN, offer both free trials and money-back guarantees, allowing you to use top-class service for free for over a month. These VPNs have advanced security features that enhance your privacy and all of their servers are RAM-based. Additionally, these Android VPNs are unmatchable when it comes to unblocking geo-restricted content, including blacked-out NBA matches.
Bottom line
VPN protection on an Android smartphone has become essential. Luckily, it's possible to find a reliable free VPN for your device to test the service in the first place. But it's also crucial to stay aware of bogus providers that use their customers' data as income.
After going through in-house tests, we found that ExpressVPN is the best free trial VPN for Android. The provider offers you a combination of a 7-day free trial and a 30-day money-back guarantee, allowing you to enjoy premium VPN service at no cost for over a month.
Unlike other free Android VPNs, our listed providers ensure complete online privacy. They follow no-log policies and use market-leading encryption. Additionally, reputable free VPNs for Android mobiles provide you with bigger server fleets and all crucial security features.
Frequently asked questions
Yes, it's okay to use a free VPN for Android as long as it doesn't show ads and has a no-log policy. Providers, like ExpressVPN or NordVPN, are completely anonymous VPNs that allow their Android users to use premium services at no cost for over a month.
Yes, free VPNs for Android will successfully hide your IP address and encrypt your online traffic. Many of them come with DNS leak protection so your DNS requests will stay safe, too. Your ISP and other third parties won't be able to know what sites you're visiting and with some free VPNs, you'll be able to unblock geo-restricted streaming sites.
Yes, it is safe to use a free VPN for Android unless it doesn't follow a no-logs policy. Without a no-logs policy, a free VPN service can collect your online data and share it with third parties. Providers like ExpressVPN ensure complete user privacy and allow the use of their service for free.