We may receive commissions for purchases made through links on our website. We appreciate your support.

YouTube has finally begun to take action against ad blockers. The announcement comes from Google itself, which is sending notifications and displaying messages to users, warning them of an upcoming policy against the use of ad-blockers.

For years, YouTube has allowed the use of Adblock, or software that could bypass advertising content, on its platform. Now, however, YouTube has declared war on Adblocks, and above all on users who use them.

In response to this shift, YouTube suggests an alternative approach for users who wish to avoid ads – subscribe to YouTube Premium at $13.99.

If you're still interested in exploring the realm of ad-blockers, we recommend considering Total Adblock. It has garnered a reputation for effectively curbing ads.

Below, you'll find some more details about YouTube's ongoing battle against ad blockers.
Is this the end of adblocks on YouTube?
YouTube's animosity towards ad-blockers has always been clear. Ad revenue is the company's primary source of profit so it's only natural for the company to come up with new ways to stop them.
Its new policy was discovered after a Reddit user Sazk100 shared a picture of a message they encountered on YouTube saying, "Ad blockers are not allowed on YouTube."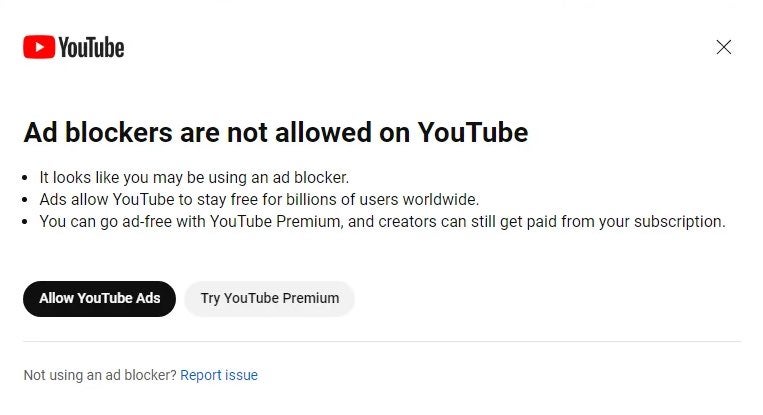 The error message shared on Reddit by the user Sazk100.
No one knows just how serious YouTube is about this new practice. Right now, it's only being tested in some regions and employees of the company have referred to it as an "experiment," rather than a new policy. However, as with any new measure, there is always the possibility that users will find ways to bypass adblock detection.
Adblock on YouTube: What has changed?
According to YouTube, the new rules clearly state that:
YouTube may prevent access if it believes, in its exclusive direction, that the provision of the Service for you is no longer commercially viable.
This means that Google, and YouTube, reserve the right not only to exclude users from the video streaming platform, but also to terminate the provision of all services. The use of the words "commercially viable" indicates the status of users as exchange products: YouTube offers literally billions of videos for free, apart from the YouTube Originals content that is behind a toll barrier (paywall).
Since no user pays a penny to either YouTube nor its advertisers, it is logical to think that the product to be sold is us, the users. In exchange for viewing advertisements, YouTube continues to provide a service for free that would otherwise cost tens if not hundreds of dollars a year.
It is therefore logical to think that Adblocks are bad for YouTube and they're going to implement measures to discourage their usage. Users on the other hand, always try to have the most comfortable and easy access to video content.
The blame for using Adblock, however, is often to be attributed also to the creators of content: it is not feasible for a person to watch 10 ads in an 18-minute video, including the pre-roll videos that are displayed before you even begin to watch the video.
To deal with these concerns, users are turning to ad-blockers specifically designed for their devices. If you're browsing YouTube on an Android device, consider exploring the best ad-blockers for Android. For iPhone users looking for a seamless experience, check out the best ad-blockers for iPhone.
For a comprehensive overview of the top ad-blockers, both device-specific and universal, take a look at the best ad-blockers overall.
Adblock on YouTube: is the ban risk real?
The risk for users who continue to use Adblock on YouTube is real. The company can freely exclude accounts that try to circumvent the new rules, using Adblock software or Adblock extensions.
Risk concerning the complete ban for other Google services, such as Gmail and Adsense, is less likely. We must consider that Google can always monetize its users in other ways, and the use of its services is fundamental: if a user is totally banned from using Google services, it is a lost product for the Mountain View company.
Lets think, for example, about the searches we perform through the search engine, or about the advertising we display in Gmail and other Google-owned apps that are not YouTube.
It is difficult to think that Google could ban users from all its services because they discovered the use of Adblock on YouTube, but obviously it is not a hypothesis to be excluded a priori. The main sources of revenue for Google, and Alphabet, derive from advertising on the search engine and YouTube: a user who is not commercially viable is a useless user.
Adblocks to avoid being banned on YouTube
From December 10th, we therefore advise you to eliminate any risk simply by no longer using any Adblock service when browsing the contents of the YouTube platform.
An example is the hundreds of YouTube Adblocks that are installed as browser extensions, such as:
Adblock
Adblock Plus
Ad Blocker for Chrome
Ghostery
uBlock
Smart Popup Blocker
Then there are those paid Adblock services that promise complete anonymity and security, such as AdFender, which lets you browse through the Tor network and block video ads, even on YouTube.
Obviously there are not only Adblock for YouTube on PC, but also for smartphones. Perhaps the most famous is AdAway, a very popular solution among Android users but which requires root permissions.
Whether you use a browser extension, such as Adblock for Chrome or Firefox, an application on a smartphone or a desktop client, our advice is to not use them to remove advertising from YouTube.
If you don't want to risk the ban after December 10th for using ad blockers on YouTube, our advice is to disable them completely when you watch videos or remove them entirely from your PC. Instead, consider getting a YouTube Premium subscription cheaper and legitimately enjoy ad-free streaming.
Youtube hasn't commented on this matter yet, but it's still important to err on the side of caution.