Computer Hardware
Gigabyte is preparing the SSD Aorus NVMe Gen4 carrier with PCIe 4.0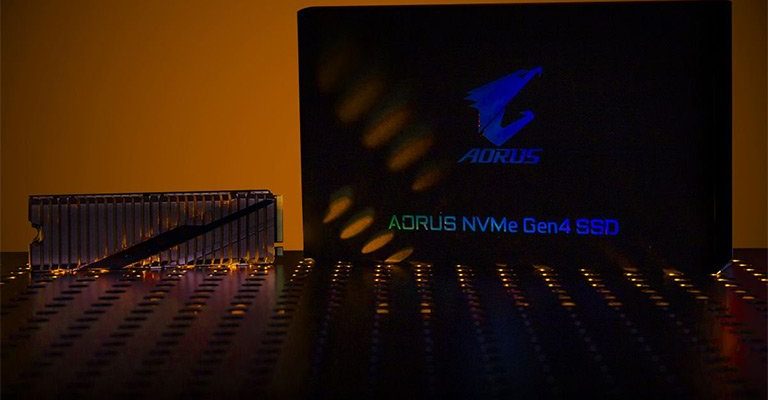 Gigabyte today announced a mysterious data carrier described as Aorus NVMe Gen4 SSD. It promises to be compatible with the PCIe 4.0 interface, thus offering unprecedented performance for traditional SSDs.
Gigabyte did not share any data about the product, which will probably be shown at the Computex trade fair. Nevertheless, we can expect the media to be really fast. According to leaks, the Aorus NVMe Gen4 SSD should be based on the Phison E16 controller, which was presented at CES 2019. During the demonstration, the carrier equipped with the Phison chip could boast a reading speed of 4100 MB/s and write up to 4,200 MB/s. The manufacturer then claimed that after the upgrades, it will be possible to exceed the explicit exceeding of these thresholds.
If the controller is actually used, we can see the 96-layer 3D NAND TLC bones in the Gigabyte product, although they can also be  Toshiba's BiCS4 chips , offering significantly higher performance. According to leaks, we should also expect a buffer from DRAM memory and LDPC error correction system. The construction possibilities will be possible to be tested on computers with Ryzen 3000, because in the near future only this family will offer PCIe 4.0 interface.
Another thing is that the presentation on Computex does not have to and probably will not mean the quick launch of the device. The mentioned Phison E16 controller is expected to reach the market only at the end of this year, so if Gigabyte actually used it, we will probably buy the described carrier only in the holiday season, if not next year. It is also possible to use Silicon Motion SM2264.
Source: Gigabyte Twitter