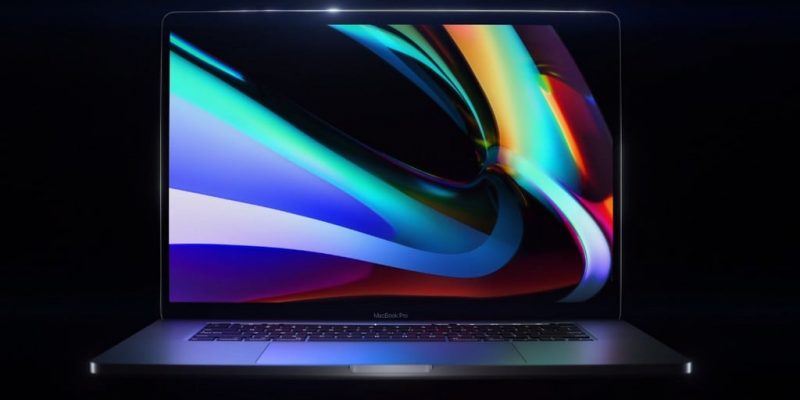 Apple has just announced the arrival of another laptop on the market. As predicted, today was set aside to introduce the new 16-inch MacBook Pro.
It will arrive in stores at the end of the week from $2,399. With it will bring a new processor, better speakers and, of course, a larger screen. Also, the keyboard seems to be highlighted in this version.
16-inch MacBook Pro – Specifications
The new 16-inch MacBook Pro hits the market in two base versions. The most affordable features a 9th generation Intel Core i7 processor (with Turbo Boost up to 4.5 GHz), comes with 16 GB DDR4 RAM and a 512 GB SSD disk. It also has an AMD Radeon Pro 5300M 4 GB GDDR6 graphics card.
The other model, 500 euros more expensive, has a 9th generation Intel Core i9 processor, 16 GB DDR4 and a 1 TB SSD. Graphics card is an AMD Radeon Pro 5500M with 4 GB GDDR6. Both feature Intel UHD Graphics 630.
Overall, the 16″ Retina display has a resolution of 3072 × 1920 pixels. Thus, it has 226ppp, 500 nits, P3 wide colors yet True Tone technology.
Your battery will provide a range of up to 11 hours, which is a pretty good value. In addition, it charges via USB-C at 96W.
At the sound level, it includes 6 stereo speakers with Dolby Atmos technology. The computer also includes a studio-quality microphone system.
Finally, it should be noted that the keyboard is backlit and comes with Touch Bar and Touch ID. The trackpad has Force Touch. The new 16-inch MacBook Pro also has 802.11ac Wi-Fi and Bluetooth 5.0.
The new 16″ MacBook Pro will be available on apple web for pre-orders from November 15 with starting price $2,399.
Read also: Finding the status of your iPhone battery? Use the Macbook