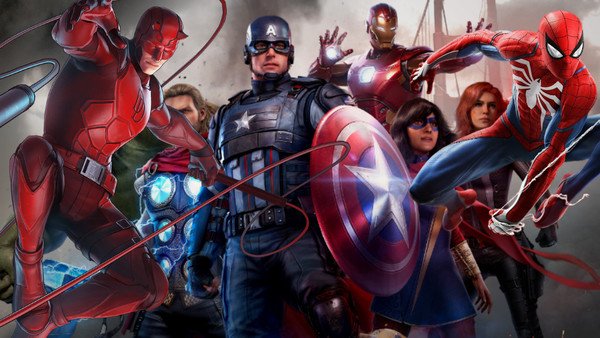 Bandai Namco recently confirmed that its next game, Marvel's Avengers, is also being developed for next-generation consoles.
Good news for fans of the series and who are considering purchasing one of the two consoles.
After a few postponements, it seems that Marvel's Avengers is finally on track for its release in September this year.
But the good news now revealed is that the game, in addition to being released for PC, Playstation 4, and Xbox One, will also be available for Next Generation consoles, later in the year.
Among the improvements that can be expected from the game on the new consoles are predictable: "extremely faster loading times, increased resolution and graphics, improved textures, ray tracing, … "
Bandai has revealed, however, that anyone who buys the game for current consoles will receive an automatic upgrade if in the meantime they purchase one of the new consoles. And of course, no loss of Saves or progression in the game.
It will also be possible for players with Playstation 5 to be able to play with friends who have Playstation 4, the same happening on the Xbox Series X and Xbox One side. And no! Nothing was said about the cross-play between the two.
The game is an action-adventure in the 3rd person, which presents an original story, but completely steeped in the spirit of the big screen series. Although you can play solo, one of the strengths of the game is the possibility of playing cooperatively with up to 4 friends.
The game will also feature a character evolution system based on your mission results, unlocking new attacks, even more, powerful powers, heroic abilities, and a lot of equipment (both aesthetic and functional) to personalize our heroes.
Marvel's Iron Man VR
However, still related to the Marvel Universe, Iron Man VR (which will be released on July 3) received a new video that shows some details about the background of the game's development.
In it, Ryan Darcey and Blaine Higdon (Designers of the studio responsible for the game development, Camouflaj), Aaron Whiting (Producer) and Ryan Payton (Game Director), explain the creative process that will give players the opportunity to control Iron Man and wearing Tony Stark's skin:
"One of the funniest and easiest things to be working on in the development of Iron Man VR is that you know what to focus on if you look at comics and movies and talk to fans of the franchise, " explains Payton.