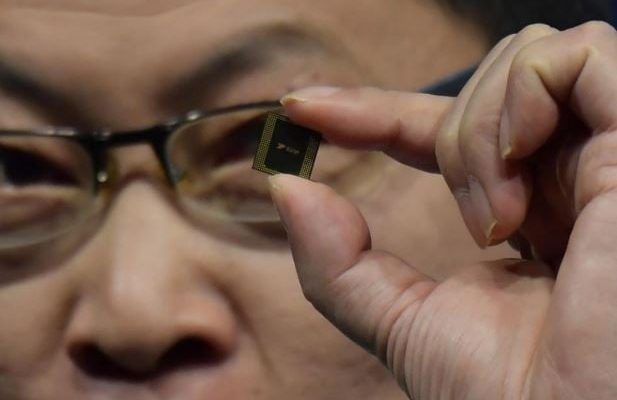 Huawei introduced the first smartphone processor with a 5G modem in the European electronics fair, IFA Berlin, whose doors opened on September 6, 2019. The Chinese manufacturer presented its new processor ready to meet 5G usage.
This is the first chip in the market to natively integrate a modem compatible with fifth-generation networks. Huawei Technologies unveiled Friday, September 6, 2019, before the launch of its new smartphone Mate 30, a processor incorporating a 5G modem, called Kirin 990, that the Chinese manufacturer presents as the first of its kind in the world. The world number two smartphone, which faces US sanctions and could be deprived of the Android operating system and applications from Google, a subsidiary of Alphabet believes that the Kirin 990 is superior to the products offered by Qualcomm and Samsung.
"The world's most powerful 5G modem"
According to Huawei, the Kirin 990 is an all-in-one natively compatible with 5G networks, while at Qualcomm and Samsung, the addition of an additional component is still needed to access the 5G. "It's the world's most powerful single-chip 5G system, the most powerful 5G modem in the world," said Richard Yu, director of Huawei's consumer division, on stage at a news conference, at the IFA Electronics Fair in Berlin. Note that Apple, Qualcomm or Samsung have not yet launched their new generations of processors.
The Kirin 990 is engraved in 7 nanometers, contains more than 10 billion transistors and can download data at a theoretical speed of 2.3 gigabits per second. Huawei does not plan to use it exclusively in its smartphones, although the Mate 30 will be its first device to be equipped. TVs, appliances, speakers and any other connected object could in the near future embark.
Mate 30, which is scheduled for launch on September 19, 2019, is expected to be the first major product of Huawei, since the US blacklisted the Chinese group on May 16, banning the purchase of home grown technologies. A Google spokesman told Reuters that the Mate 30 could not be sold with the licensed version of Android and related Google applications and services due to the ban.
Read also: Huawei unveils Children's Watch 3s and 3X, dedicated to children