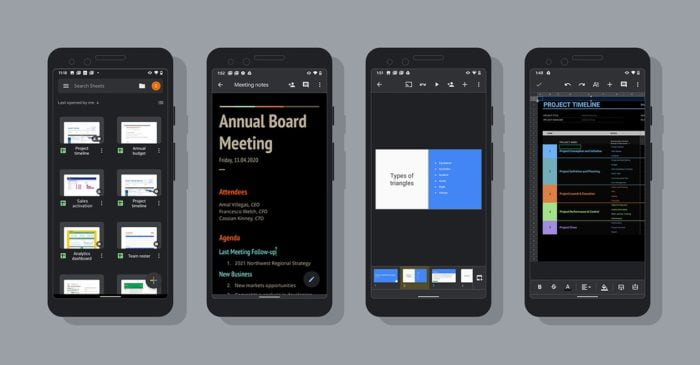 Google has started rolling out dark mode for Google Docs apps that run on Android. The feature affects Docs, Presentations, and Spreadsheets removes the white background even from the middle of the text and will follow the decision on the same subject that the user has already chosen in the system settings.
Gradually the most used apps allow the dark mode to be activated, the most recent of which is the Google productivity package, which has a text editor called Docs, Spreadsheets that does exactly what you thought and the Presentations, which is the search giant's PowerPoint. They will all start to reverse the contrast of much of the interface.
In addition to saving battery power for devices with OLED, AMOLED, or Super AMOLED screens, decreasing the amount of white light coming out of the screen can be a relief for users' eyes.
In all apps the texts change color to white and the change of look does not change images or other items added. Google says that dark mode will respect the user's decision within the system menu that appears on many devices running Android 9 or later, but if you want dark mode on Android and don't want Docs, you can change the feature manually.
The sad part for those who expect this news is that the speed of implementation of the function starts on Monday (6), but it will take longer than the 15 days to reach everyone. All of this is for Android, without any date for users of iPhone, iPad, or iPod Touch to receive the dark mode, much less those who access the apps through the browser on a computer.