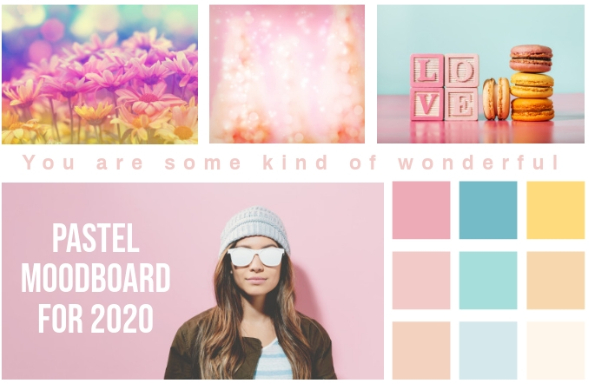 We may receive commissions for purchases made through links on our website. We appreciate your support.

Mood boards are popular for the conceptualization of ideas for different purposes. It is a necessary part of many preparatory and other processes that need any visual representation. VistaCreate provides a comfortable mood board generator that requires the minimum time for the realization of the ideas and preparation of a well-balanced mood board.

Mood boards are indispensable for situations when people need to present something visually. It is particularly helpful for collections of concepts that characterize something. For example, when you think about autumn what are your first and warmest associations? A mood board helps present simple ideas and save the peculiarity of each element while creating a composite vision of the whole personalized concept.

Such approach is a widespread tool for completing various tasks for work and school. But the most complicated task is to create a mood board in good quality and a convenient format. Regarding the remote work and education now prevailing in the world, physical mood boards are no more relevant (except for personal needs), but as for using software solutions, there are not so many understandable options to choose from.
How to create a comprehensive mood board
To create a mood board in a graphic tool youll need:
a clear understanding of what concept you want to realize in visuals;

a definite set of elements you want to see they will be the core parts of your representation;

optional things which can change depending on the situation;

decorative elements that complete the entire vision of the concept.
These points will create the most complete picture of the idea you want to visualize.
Why VistaCreate is the best tool for mood boards
The VistaCreate editor is the best option for most tasks with visual content. Mood boards are one of the most interesting things to work with in this tool. VistaCreate provides the following features to create great mood boards:
photos thousands of trending and other photos you can use to represent your ideas (some photos are available only in the Pro version);

videos the same as with photos;

music divided into categories, it can complete the concept from all the points of view;

animations referring to all different topics and purposes use them as objects but to bring more action to the static image;

objects static elements that help stylize the image;

backgrounds you can use variations of static photos, videos, or simple colors (or just keep it transparent);

text add other stylistic elements using different font combinations;

styles color palettes to set your mood board in.
Discover more options on create.vista.com.
The more people care about the quality of their creative projects, the more difficult they think it will be to work with a tool. VistaCreate changes this vision of the creative process and makes everything simple and understandable for any user. Go now and see how pleasant the process of visualizing your imagination can be with VistaCreate!